05.27.09
home | metro silicon valley index | silicon valley restaurants | review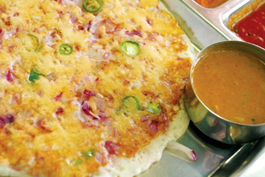 Photograph by Felipe Buitrago
PANCAKE POWER: The chile and onion utthapam is one of several fiery but delicious specialties at Saravanaa Bhavan.
No Meat, No Problem
The southern Indian cuisine at Saravanaa Bhavan in Sunnyvale is flavorful on the tongue and easy on the Earth
By Stett Holbrook
ENVIRONMENTALLY speaking, the world would be a better place if everyone ate less meat. A lot of the grain that goes to feed livestock could go to feed hungry people. It takes two to five times more grain to produce the same amount of calories through livestock than simply eating the grain directly. That's food for thought given that an estimated 800 million people around the world suffer from starvation and malnutrition.
Saving water that is used to irrigate grain crops would be another huge benefit. According to the United Nation's Food and Agriculture Organization (FAO), livestock production accounts for more than 8 percent of global human water use. Evidence suggests that it is also the largest source of water pollution thanks to animal wastes, antibiotics, hormones, fertilizers and pesticides used for feed crops, and sediments from eroded pastures.
Instead of clear cutting and deforesting land for cattle range, wild spaces could be left in their natural state. An estimated 30 percent of the Earth's ice-free land is involved in livestock production. Approximately 70 percent of previously forested land in the Amazon is used as pasture, and feed crops cover a large part of what's left. The FAO says that livestock production generates nearly a fifth of the world's greenhouse gases, more than transportation.
But I'm not here to bum you out. I eat meat. I simply want to suggest that going without meat a few days a week would do the Earth a world of good. But what about protein, you may ask? And who wants to eat salads and tofu all the time? Giving up meat now and then won't turn you into an anemic weakling, and it doesn't mean eating boring and bland food. Far from it.
Hindu traditions make southern India one of the world's showcases of vegetarian food, and no one would ever call the often fiery cuisine tame or boring. Silicon Valley happens to be tops in the Bay Area for southern Indian food. Southern Indian restaurants offer a compelling example of how millions of people do without meat. In addition to protein-rich dal or lentils, they eat a lot of bread, but not just any bread.
Unlike northern India, where wheat (think naan) is king, southern India is the land of rice, lentils and beans and an entirely separate category of bread. In America, mothers warn their children not to fill up on bread lest they spoil their appetite. I imagine that moms in Madras and Kerala say the opposite: stop snacking or you won't have any room for your bread. That's because southern Indian flat breads and fried breads are packed with protein and form the center of the meal. Many of the bread batters are fermented, which gives them additional nutritional powers.
Sunnyvale's Saravanaa Bhavan is an India-based chain of southern Indian–style vegetarian restaurants that offers the widest array of Indian breads I've found around here. The restaurant looks like it might have been a Coco's or Carrow's long ago, with its light-green booths and coffee-shop aesthetics, but now only the memories of bad coffee, waffles and club sandwiches remain.
At lunch and dinner, Saravanaa Bhavan is packed with a mainly South Asian crowd, who know that this is the place to go for southern Indian food. The PDA-wielding servers are brisk, but brusque is OK by me as long as the food is good. And most of it is. Answers to some of my questions about the food were sometimes unintelligible because of language barriers, but I was satisfied with most of what I got anyway.
Dosa and utthapam form the heart of the menu. They are crepes and pancakes, respectively, made from fermented lentil and rice batter. Dosa ($6.50 and up) come plain or griddled with a choice of vegetables. They arrive rolled up like a big swatch of carpet. They're big enough to put your arms inside. But don't do that. Rip off a piece and scoop up the various chutneys, curries and sauces served with dosa. The two accompaniments that are almost always served are the sambar, a kind of spicy, vegetable soup, and coconut curry. The sambar lights a fire in your mouth, and the curry extinguishes it.
For a great combo, order a dosa and idly. The soft and squishy idly ($4.95, two pieces) is made from steamed rice and lentil flour and is kind of like a donut. It's perfect for dunking in the sambar, the spicy soup that's essential to a southern Indian meal.
An utthapam is thicker and slightly heavier than a dosa, and this makes it easy to get filled up in a hurry. My favorite is the onion and chile pepper utthapam ($7.50). Saravanaa caters to South Indian diners, so they're not shy about making the food plenty spicy; the onion and chile utthapam is the one to get if you like it hot.
Dosa and utthapam are common in Silicon Valley South Indian restaurants, but Saravanaa Bhavan goes deeper with more esoteric breads like parrota and adai avial. Unlike the other breads made with various pulses (beans and legumes), the parotta ($6.95) is made bits of buttery, layered bread made from maida flour, a superfine wheat flour. The dish is the Indian equivalent of chilaquiles, the Mexican specialty made with stale tortillas chips and a rich, spicy sauce. On its own, the dish is rather one-dimensional, but with the array of condiments—sambar, rasam (a spicy tamarind-lentil soup), mango pickles and rice pudding—it's the center of a satisfying meal.
The menu says that the adai avial ($7.95) requires 15 minutes of preparation, so I figured it was something special. I asked what it's made with, but I couldn't understand the response, and before I could ask again the waiter dashed away. But the dish arrived in less 15 minutes, and it looked and tasted like an utthapam. It's essentially a lentil pancake made with a variety of well spiced vegetables backed with a cooling, yogurty tang. It's good stuff.
Saravanaa Bhavan also doubles as a sweet shop. The front counter is loaded with various Indian desserts—barfi, halwa, jalebi. They also make good chai ($2.50), but my favorite end to a meal is their excellent Madras-style coffee ($2.50), a sweetened, milky and chicory-flavored brew served in a silver cup, a suitable challis to toast a good meal of meat-free dining.
---
Saravanaa Bhavan
Address: 1305 Mary Ave., Sunnyvale.
Phone: 408.616.7155.
Hours: 11:30am–2pm and 5:30–10pm Tue–Thu, 11:30am–2:30pm and 5:30–10:30pm Fri, 11am–3pm and 5:30–10:30pm Fri, 11am–3pm and 5:30–10pm Sat and 11am–3pm and 5:30–10pm Sun.
Cuisine: South Indian vegetarian.
Price Range: Most dishes $6–$7.50.
Web: www.saravanabhavan.com
Send a letter to the editor about this story.