06.10.09
home | the papers | metro silicon valley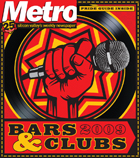 Bars & Clubs
Live Music | Club Cop | Brewpubs | Pool Parties | Asian Clubs | Latino Clubs | British and Irish pubs

Pride vs. Prop 8
Pride Parade Organizers Hope For Big Turnout
The Fly Reports on Silicon Valley News

SubZERO Sum Game
Summing up SubZERO
The Cost of Fast Fashion
What Does Fast Fashion Really Cost?
I Saw You: Cell-Phone Megaphone
What bugs you the most? Metroactive wants to know

Movie Review: 'Pelham 1 2 3'
Updated 'Taking of Pelham 1 2 3' is all action and no soul
Movie Review: 'Hangover'
A stays-in-Vegas comedy is laugh filled
Movie Review: 'The Last Lullaby'
Jeffrey Goodman's impressive indie showcases actor Tom Sizemore
DVD Review: The Invisibles: Series 1

MORE MOVIE REVIEWS

MOVIE TIMES

Deep Testimony
India.Arie moves beyond compromise to expand the boundaries of her acoustic soul
Music Preview: Music in the Park

MORE MUSIC AND NIGHTLIFE

MUSIC AND CLUBS LISTINGS

MUSIC AND NIGHTLIFE CALENDAR PICKS

Restaurant Review: Spicy Leaves Indian Restaurant
Los Altos dining spot serves a tasty range of Indian and Sri Lankan dishes
Wine News: A Vintage Love Affair at Wine Affairs
Diane Chang-Laurent champions fine wines on The Alameda in San Jose
Good Food on a Budget
Food critic Stett Holbrook wonders how to eat well while cutting his family's meal expenses

BOOK A RESTAURANT RESERVATION

FIND A RESTAURANT REVIEW

Midomi Knows All
Is there a song in the world that iPhone app doesn't know?
Stage Review: 'Rough Crossing' at CTC
California Theatre Center starts Summer Rep season with Tom Stoppard comedy

Letters to the Editor
June 10 - 16, 2009