06.11.08
home | the papers | metro silicon valley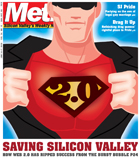 Who Saved Silicon Valley?
Sarah Lacy's new book explains how Silicon Valley got where it is today, tracking the core of entrepreneurs who rebuilt after the dotcom crash.
When the Bubble Burst
A survivor explains why the importance of the great dotcom crash has yet to be fully realized

Club Dread
Downtown promoters lose fight for the right to party
The Fly: 06.11.08
Certified crazy, Thanks for nothing and Racks rocked

Silicon Alleys
Keep 01SJ Real
Technology News
Why the Kindle and iPhone are yesterday's breakthroughs
Style
Drag's Place in Pride
Events
Smash-Up Derby performs Sunday (June 14) at Discovery Meadow as part of San Jose Pride.
Sporting Events
The Google U.S. Puzzle Championship
Kids Events
'When Elmo Grows Up!' a Sesame Street Live stage show, playing Friday–Sunday at the San Jose Civic Auditorium.

Movie Review: 'Up the Yangtze'
Documentary shows the human cost of Three Gorges Dam in China
Movie Review: 'The Incredible Hulk'
The effects are better, but the emotions are deflated
Movie Review: 'Bigger, Stronger, Faster'
A look at the reality of steroids-are they really the devil's work?
DVD Review
'The Three Stooges Collection, Vol. Two: 1937-1939
DVD Review
'The Entrance'
DVD Review
'The Skull'
DVD Review
'Boarding Gate'

Take Pride
Listen in on the 33rd Annual San Jose Pride Festival
This Week's Music Picks
Stung!, Augustana and Snoop Dogg's West Fest

MORE MUSIC AND NIGHTLIFE

MUSIC AND CLUBS LISTINGS

MUSIC AND NIGHTLIFE CALENDAR PICKS

Fuel Mix
Fuel has an original formula for modern Vietnamese, but results vary
5 Things to Love
Great Hotel Restaurants
Girl's Gotta Eat
I Write Because I Eat

BOOK A RESTAURANT RESERVATION

FIND A RESTAURANT REVIEW

Stage Preview: 'Shakespod'
City Lights Theater Company plugs into the Bard with premiere show
Stage Review: 'Twelfth Night'
Indian influences enliven Shakespeare on the Square Festival
Symphony Review: Symphony Silicon Valley
As part of 01SJ, the symphony dissected Stravinsky's 'The Rite of Spring'
Book Review
'Right Is Wrong' by Ariana Huffington, reviewed by Richard von Busack
Book Review
'Going Dutch in Beijing' by Mark McCrum, reviewed by Richard von Busack
Classical Preview
This weekend's best classical shows

Letters to the Editor
June 11 - 17, 2008