June 20-26, 2007
home | the papers | metro silicon valley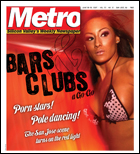 Silicon Valley Bars & Clubs 2007:
Intro | The Barman's revenge | San Jose | Campbell | Cupertino | Los Altos | Los Gatos | Mountain View | Palo Alto | Santa Clara | Saratoga | Sunnyvale

Cop rock
Why the debate over improving police oversight is missing the chance for real change.
The Fly: 06.20.07
Gonzo vs. Sunshine.

Silicon Alleys
Do It for Krazy George.
Technology news
Columbia's suit against TorrentSpy might change the rules for evidence.
Sports news
Acroyoga.
Style
Confessions of an image consultant.

Movie review: 'A Mighty Heart'
This dramatization of the Daniel Pearl tragedy asks us to wait and wait for Angelina Jolie to hit the high note.
Seeing stars
Cinema San Pedro kicks off outdoor screenings.
Movie review: 'Private Fears in Public Places'
Alain Resnais explores the 'Private Fears' of six men and women.
Movie review: '1408'
They check in but they don't check out.
Movie review: 'The Rape of Europa'
A new doc looks at the Nazis' near 10-year-long heist of the art of a continent.
This week's revivals
The Stanford's Katharine Hepburn festival continues.

MORE MOVIE REVIEWS

MOVIE TIMES

Revolution rock
Sierra Leone's Refugee All Stars find a little peace.
Music Picks
Feist, Nicholas Payton Quintet, Scissors for Lefty, El Dia de San Juan and classical music highlights.

MORE MUSIC AND NIGHTLIFE

MUSIC AND CLUBS LISTINGS

MUSIC AND NIGHTLIFE CALENDAR PICKS

Premium trend
Koji sake lounge brings Japanese cool to San Jose scene.
Live Feed
Make dining out count.
5 Things to Love
Great grills.

BOOK A RESTAURANT RESERVATION

FIND A RESTAURANT REVIEW

Train he rides
Shows at S.J. Museum of Art and Mexican Heritage Plaza reveal the life and art of an unsung master, Martín Ramírez.
Farce time
Michael Frayn's 'Noises Off' clicks at Palo Alto Players.
'Spring' time
What the Tony Awards indicate about the future of theater.
Book review: 'The Life of Kingsley Amis'
Book authored by Zachary Leader.
Book review: 'Discovering Orson Welles'
Book authored by Jonathan Rosenbaum.
Kids events
'The Pale Pink Dragon' and Community Arts Day.

Letters to the Editor
June 20-26, 2007.