06.25.08
home | the papers | metro silicon valley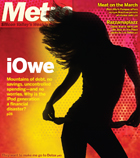 Generation Debt
This generation doesn't understand a lot about money, but does like to spend it. The result can be tens of thousands of dollars in debt that won't go away.

Toxic Shock
Poisonous products banned in most nations are killing Americans and threatening the economy
The Fly: 06.25.08
Just Like Starting Over, Snippy Cups and ABC & SJPD

Silicon Alleys
Racking My Brain
Technology News
It's time to get used to a new definition of privacy
Style
Shades of Cool
Events
The annual Woodies on the Wharf celebration at the main Santa Cruz beach
Sporting Events
Crossfit training is now becoming a part of many gyms.
Kids Events
Young artists can get a dose of creativity at Community Arts Day.

Movie Review: 'WALL-E'
New Pixar feature is a blast-off
Web Extra:
Richard von Busack interviews WALL-E director Andrew Stanton
Movie Review: 'Savage Grace'
Jullianne Moore's mother from hell makes Joan Crawford look like June Cleaver
Movie Review: 'Encounters at the End of the World'
Werner Herzog explores the ice floes of Antarctica in a quirky new documentary
Movie Review: 'Brick Lane'
Life isn't easy when you're Bangladeshi in east London
DVD Review
'High Noon'
DVD Review
'Quantum Hoops'
DVD Review
'Da Vinci's Inquest: Season 3'

Hip Cats
Claire Martin kicks off the star-studded season of Jazz on the Plazz in Los Gatos
Music Review
The cure at HP Pavilion.
This Week's Music Picks
3 Cohens, Big Sandy and His Fly-Rite Boys and Camper Van Beethoven

MORE MUSIC AND NIGHTLIFE

MUSIC AND CLUBS LISTINGS

MUSIC AND NIGHTLIFE CALENDAR PICKS

March of Meat
Pampas' Brazilian rodizio service is a parade of rotisserie roasts
5 Things to Love
Great Ice Cream Shops
A Girl's Gotta Eat
Playing the Markets

BOOK A RESTAURANT RESERVATION

FIND A RESTAURANT REVIEW

Art Review: "Saved From the Storm'
The New Orleans Museum of Art survived Katrina, and some of its best works can now be seen at Stanford
Stage Review: 'Snapshots'
A couple looks back on its life in TheatreWorks musical drama
Stage Review: 'Picasso at the Lapin Agile'
Northside Theatre revives Steve Martin's comedy about genius
Book Review
'The Pixar Touch,' by David A. Price, reviewed by Richard von Busack
Book Review
'Breath,' by Tim Winton, reviewed by Richard von Busack

Letters to the Editor
June 25 - July 1, 2008