07.02.08
home | the papers | metro silicon valley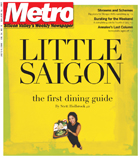 By Any Other Name
In all the controversy over the naming of Little Saigon, what got lost was the neighborhood itself

Smells Like the End
A proud and odorous era wanes as economic woes force mushroom farms out of Morgan Hill
The Fly: 07.02.08
Square Pegs and Sketchy Politics

Silicon Alleys
History Must Go!
Technology News
Annalee Newitz signs off after nine years of Tech Column
Sporting Events
Finding the Valley's Best Run
Events The Rose Garden Neighborhood Preservation Association and other local groups are reviving two traditions: the classic 4th of July parade with the sui generis Carnival of Roses. The Rose, White & Blue Parade takes place Friday, with a parade starting at 10am at Lincoln High School and winding up at The Alameda and Hanchett Avenue.
Kids Peninsula Youth Theatre takes a splash with its production of 'The Little Mermaid,' playing Thursday (July 3) at 6:30pm as part of the Theatre in the Park series on the stage outside the Mountain View Center for the Performing Arts.

Film Review: 'Hancock'
Will Smith's superhero falls hard only to fly again
Film Review: 'Gonzo'
A new documentary traces the incandescent life and works of Hunter S. Thompson
DVD Review
'The Furies'
DVD Review
'The Lawrence Jordan Album'
DVD Review
'Futurama: The Beast With a Billion Backs'
DVD Review
'The Gits'

Constant Elevation
Fingerbangerz crew celebrate 10 years with gig as new permanent DJs for the Jabbawockeez dance crew

MORE MUSIC AND NIGHTLIFE

MUSIC AND CLUBS LISTINGS

MUSIC AND NIGHTLIFE CALENDAR PICKS

Paragon of Virtue
San Jose fixture still a top option for downtown dining
5 Things to Love
Top Downtown Campbell Restaurants
Silicon Veggie
Vegan Is the New Black

BOOK A RESTAURANT RESERVATION

FIND A RESTAURANT REVIEW

Art Review: Ming Matters
A new show at the Asian Art Museum contains treasures from the Ming dynasty
Stage Review
'Homeland Prayer' at Pear Avenue, reviewed by Marianne Messina
Stage Review
'All the Great Books (abridged) at San Jose Rep, reviewed by Marianne Messina
Book Review
'When You Are Engulfed in Flames,' by David Sedaris, reviewed by Matthew Craggs
Book Review
'100 American Flags,' by Kit Hinrichs, reviewed by Michael S. Gant

Letters to the Editor
July 2 - 8, 2008