07.16.08
home | the papers | metro silicon valley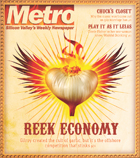 One Nation Under Garlic
How Gilroy turned a potent Italian bulb into a culinary staple and the country's biggest and smelliest food festival

Sacramento Is Burning
Think the budget battle is just a numbers game? This summer's blazes reveal the real cost of the state's money problems
The Fly: 07.16.08
Don't Ask, Don't Tell, Can't Waite and Watch Your Head

Silicon Alleys
Local Chefs Say Eat Me
Sporting Events
The Catfish Swim will be held July 20 at Steven's Creek Reservoir.
Events
The barbecue action is heating up for this weekend's Connoisseurs' Marketplace, which features local artists and craftspeople showing off their talents, lots of live music, plenty of food and drink, and a play area for kids. The festival takes place July 19–20, 10am–6pm, on Santa Cruz Avenue in downtown Menlo Park.
Kids
The denizens of a prehistory world threatened by a food shortages decide on a better way in a new show called 'The Dinosaur Musical,' presented by Wingspread Summer Stock and Palo Alto Children's Theatre, Friday (July 18) at 7:30pm and Saturday (July 19) at 2:30pm at 1305 Middlefield Road, Palo Alto.

Film Essay
Richard von Busack asks the Joker to pick a card, any card
Film Review: 'Dark Knight'
Chris Nolan's 'The Dark Knight' shows us the Joker's life as a dog
Film Review: 'Mamma Mia!'
The choice of anti-Batman fans everywhere
Film Review: 'Hellboy II'
The red-faced superhero returns
DVD Review
Rebus, reviewed by Michael S. Gant
DVD Review
The Carmen Miranda Collection, reviewed by Michael S. Gant

Christmas In July
The Record Winter comes bearing gifts
Upwardly Mobile
The Download Festival is a band-studded commercial bonanza
Music Picks
Tom Jones, Bo Bice and Yosvany Terry

MORE MUSIC AND NIGHTLIFE

MUSIC AND CLUBS LISTINGS

MUSIC AND NIGHTLIFE CALENDAR PICKS

Muslim Soul Food
Zafran in Santa Clara celebrates muscular, hearty meat dishes
5 Things to Love
Top Italian Restaurants
Live Feed
Still Cool After All Those Beers

BOOK A RESTAURANT RESERVATION

FIND A RESTAURANT REVIEW

Stage Preview: The Princess Is in the House
Carrie Fisher of 'Star Wars' fame talks about her one-woman show, 'Wishful Drinking'
Stage Review: 'Rough Crossing'
Dragon Productions crosses the sea with Tom Stoppard
Book Review: The Boat
By Nam Le, reviewed by Richard von Busack
Book Review: Arts, Inc.
By Bill Ivey, reviewed by Michael S. Gant

Letters to the Editor
July 16 - 22, 2008