08.20.08
home | the papers | metro silicon valley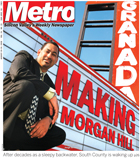 Making Morgan  Hill
After decades of fits and starts in the effort to revitalize the small South County city, Morgan Hill is on the rise again. And the city has much bigger plans for the future. Can it finally pull them off?

Obama's Strike Force
Palo Alto volunteers built an unorthodox campaign office, but its success capturing Silicon Valley votes and money has it playing a key role in battleground states
The Fly
Pay the Man | Multilevel Housing | Due South

Silicon Alleys
Earning Our Name
Sporting Events
The United States Synchronized Swim Team
Events
The Palo Alto Festival of the Arts brings food, arts and crafts to downtown Aug. 23-24.
Kids
The Bombastic Bouncers roll into town for the latest offering from the Ringling Brothers and Barnum and Bailey Circus, Aug. 20–24 at the HP Pavilion, San Jose.

Movie Review: 'Elegy'
Philip Roth's novel gets lost in the shuffle of film adaptation
Movie Review: 'Mirrors'
Horror-movie director Alexandre Aja stays one step ahead of his fans
Movie Review: 'The Rocker'
ete Best Syndrome strikes second-chance drummer Rainn Wilson
DVD Review
'Tyrone Power: Matinee Idol'
DVD Review
'Joy House'
DVD Review
'Long Dream'

MORE MOVIE REVIEWS

MOVIE TIMES

For the Glory
A new album and opening for Coldplay help Picture Atlantic set sail
Music Picks
The Misfits, Jo Dee Messina and Extreme

MORE MUSIC AND NIGHTLIFE

MUSIC AND CLUBS LISTINGS

MUSIC AND NIGHTLIFE CALENDAR PICKS

Ripe Here, Ripe Now
The love apple is the New World's gift to everybody else
Live Feed
We Need More Hippies
5 Things to Love
Great Vacation Drinks

BOOK A RESTAURANT RESERVATION

FIND A RESTAURANT REVIEW

Stage Prevew: 'Grey Gardens'
TheatreWorks stages the first post-Broadway production of oddball musical
Stage review: 'My Strange Nation'
Theatre Q puts the gay-themed music of Susan Werner into a revue format
Book Review
'This Land Is Their Land,' by Barbara Ehrenreich, reviewed by Molly Zapp
Book Review
'Postcards From the Russian Revolution and the Trenches,' reviewed by Michael S. Gant

Letters to the Editor
August 20 - 26, 2008