08.27.08
home | the papers | metro silicon valley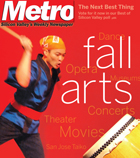 Fall Arts Preview 2008
Our Fall Arts Guide offers a thorough yet handy look at the upcoming schedules for the South Bay's theater, dance and opera companies, its orchestras, its museums and its literary specials.

We Got Game
Top gamers pour in from all over the world as NVISION makes San Jose the mecca of visual computing
The Fly
Who Needs Bolt? | Pillow Talk

Silicon Alleys
Not Lovin' It
Sporting Events
The Silicon Valley Roller Girls' debut bout against the Port City Roller Girls.
Events
Jim Rosenau shows off his witty book shelves made from books at the Kings Mountain Art Fair. The annual free craft and food fair takes place Aug. 30–31 and Sep. 1, 10am–5pm, at the Kings Mountain Community Center and Firehouse, 13889 Skyline Blvd., Woodside.
Kids
This Saturday (Aug. 30), 8:30am10am, Hidden Villa in Los Altos Hills offers human kids (ages 6 and up) a chance to meet and greetand even milksome of the demonstration farm's goats. It's a good idea to call ahead at 650.949.8650 for details.

Movie Review: 'Hamlet 2'
A spoof on the Bard falls short of the mark
DVD Review
'Perils of the New Land: Films of the Immigrant Experience (1920–1915)'
DVD Review
'Three Stooges Collection, Vol. 3, 1940–42'
DVD Review
'6 Films to Keep You Awake'

MORE MOVIE REVIEWS

MOVIE TIMES

Reggae Party
Lee 'Scratch' Perry teams up with Andrew W.K. for 'Repentance'
Music Picks
Dazz Band, E-40 and Metal Masters Tour

MORE MUSIC AND NIGHTLIFE

MUSIC AND CLUBS LISTINGS

MUSIC AND NIGHTLIFE CALENDAR PICKS

Peep Show
Let Hooters introduce you to the 'lean and show' and other patented moves
Live Feed
Slow Food Nation
5 Things to Love
Greek Restaurants

BOOK A RESTAURANT RESERVATION

FIND A RESTAURANT REVIEW

Art Review: 'Once Upon a Time'
Elaine Badgley Arnoux gives fairy tales a sinister spin in new show
Stage Review: 'Grey Gardens'
An eccentric mother and daughter fight and sing at TheatreWorks

Letters to the Editor
August 27 - September 2, 2008