09.03.08.08
home | the papers | metro silicon valley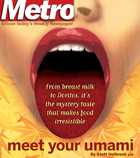 A Question of Taste
It's what makes babies love breast milk and the rest of us love Doritos. It's the secret weapon of Japanese chefs. It's behind the controversy over MSG. It's umami—the taste you didn't know you couldn't get enough of—and scientists are finally beginning to understand why it's important.

Where the Flavor Isn't
Eshoo bill would put a stop to flavored cigarettes enjoyed by children and hipsters. Does it go too far?
The Fly
Not So Fast | Sig Alert

Silicon Alleys
Ornery Ennui
Sporting Events
Fear the Sweet Pea
Events
The Bay Area's Lisa Quinn, a.k.a., the House Doctor, will be one of the headline speakers at the South Bay Home & Garden Show this weekend. The show includes scores of vendors, lots of demonstrations about home-improvement projects and appearances by domestic-zone celebrities. The action runs Sept. 5–7 at the Santa Clara Convention Center.
Kids
All Star Kung Fu will be conducting classes for kids ages 3 and up at this weekend's Mountain View Art & Wine Festival. The annual event features lots of food, arts and crafts, entertainment and all-ages amusement. It takes place Sept. 6–7 along Castro Street in downtown Mountain View.

Movie Review: 'Trouble the Water'
A new documentary shows Katrina's impact on the people who lived through the devastation
Movie Review: 'I Served the King of England'
An ambitious waiter recalls his days catering to the upper classes in a Czech comedy
Cult Leader: 'Salo'
The most disgusting movie ever gets a shiny new DVD release
DVD Review
'American Slapstick, Vol. 2'
DVD Review
'Errol Flynn Westerns Collection'
DVD Review
'Extasis'

MORE MOVIE REVIEWS

MOVIE TIMES

Reborn
Fleetwood Mac's Lindsey Buckingham finds a new artistic voice
Music Picks
Dave Matthews Band, Jakob Dylan and the Gold Mountain Rebels and Xavier Rudd

MORE MUSIC AND NIGHTLIFE

MUSIC AND CLUBS LISTINGS

MUSIC AND NIGHTLIFE CALENDAR PICKS

Street Elite
Where to find Silicon Valley's best vendors
Silicon Veggie
A Campbell Surprise
5 Things to Love
Local Brewpubs

BOOK A RESTAURANT RESERVATION

FIND A RESTAURANT REVIEW

Art Review: San Jose Institute of Contemporary Art
Two installations and a group show tackle nature from all angles
Stage Preview
Renegade Theatre Experiment stays alive for another season
Book Review
'Colosseum' by Katie Ford, reviewed by John Freeman
Book Review
'The Scotia Widows,' by Gerald M. Stern, reviewed by Richard von Busack

Letters to the Editor
September 3 - 9, 2008