September 5-11, 2007
home | the papers | metro silicon valley
Best of Silicon Valley 2007 Reader's Poll
Vote online for the best food, drink, retail, arts and entertainment in the South Bay. Click here to vote. (The deadline for voting is Mon., Sept. 10.)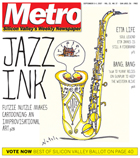 The Nutzle Enigma
A portrait of the artist as an invisible man.

Echoes of Earth
Bio-acoustician Bernie Krause is working with Google to bring you the soundtrack for the world.
The Fly: 09.05.07
Parks, schools and retail projects in North San Jose.

Silicon Alleys
SJ in 3-D.
Technology news
How Cities Grow.

Cinema saver
David Packard of Stanford Theatre gives millions to national film-preservation effort.
Movie Review: '3:10 to Yuma'
James Mangold remakes an old Glenn Ford western.
Movie Review: 'Deep Water'
'Deep Water' follows one man in a boat around the world (No cult leader this week)
This week's revivals
'The Best of Everything', 'The Sweet Smell of Success', 'Niles Essanay Film Museum', 'Steamboat Bill Jr.', 'The Navigator', 'Winchester '73' and 'Destry Rides Again'

MORE MOVIE REVIEWS

MOVIE TIMES

Still Raging
Etta James brings her signature sass and soul to the Mountain Winery
Music Picks
Rilo Kiley, Stout City Rockers and The Richard Thompson Band.

MORE MUSIC AND NIGHTLIFE

MUSIC AND CLUBS LISTINGS

MUSIC AND NIGHTLIFE CALENDAR PICKS

From Russia With Love
The Russian Café and Deli in Campbell welcomes newbies and expats with hearty fare.
Silicon Veggie
Do You Take This Buffet to Be Vegan?
5 Things to Love
Essential Kitchen Tools

BOOK A RESTAURANT RESERVATION

FIND A RESTAURANT REVIEW

Stage Preview: Pear Avenue
Pear Avenue unveils a new translation of Chekhov's 'Three Sisters'.
Classical Music Preview: Jorge Federico Osorio
Classical Music Preview: Jorge Federico Osorio performs Sept. 8 at the Mexican Heritage Plaza in San Jose.
Book Reviews:
'India After Gandhi' & 'The Great Man'
Kids events
Antique Autos

Letters to the Editor
September 5-11, 2007.