09.10.08
home | the papers | metro silicon valley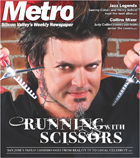 The Cutting Edge
San Jose stylist Paulo Candido hit reality TV like a force of nature on the latest season of 'Shear Genius.' After blindfolded haircuts, catfights and spending the five-week budget for alcohol in three days, he thought he'd settle back into routine in his salon. But now he's facing a new reality: local celebrity.

Unreal Estate
This deal sounded too good to be true. It was. And it was just one of the schemes that wreaked havok on real estate. By Paul Wagner
The Fly
Building Consensus | Empty Nest Syndrome | Two giants of San Jose's jazz world died in late August within a week of each other.

Silicon Alleys
Art of the City
Sporting Events
Tonight, We Dine on Grass!
Events
The annual Antique Autos event at San Jose's History Park includes a nostalgia display of old-fashioned vehicular finery, including cars, truck and fire engines. Period costumes and live music add to the fun. It all happens Sunday (Sept. 14), from noon to 5pm.
Kids
The Billy Jones Wildcat Railroad in Oak Meadow Park in Los Gatos continues to delight rail fans of all ages. Rides are offered every weekend; see www.bjwrr.org for details.

Movie Review: 'Stealing America: Vote by Vote'
Dorothy Fadiman's documentary rips the curtain off the voting booth
Movie Review: 'Burn After Reading'
The center cannot hold in the Coen brothers new comedy of divorce
Movie Review: 'Bangkok Dangerous'
Nicolas Cage's international hit man of mystery goes down the mean blue streets of Bangkok
DVD Review
'Moontide'
DVD Review
'Foyle's War: Set 5'
DVD Review
'Bruce Nauman: Make Me Think'

MORE MOVIE REVIEWS

MOVIE TIMES

Cover Story
Judy Collins brings great songwriters' work to the world; they return the favor
Music Picks
The Black Crowes, Sister Hazel and Xiu Xiu

MORE MUSIC AND NIGHTLIFE

MUSIC AND CLUBS LISTINGS

MUSIC AND NIGHTLIFE CALENDAR PICKS

Dosa Reality
Where to find Silicon Valley'sbest South Indian snacks
Live Feed
Paso Wine Revisited
5 Things to Love
Delicious Restaurants at the Milpitas Square Mall

BOOK A RESTAURANT RESERVATION

FIND A RESTAURANT REVIEW

Opera Review: 'Evgeny Onegin'
Opera San Jose begins its 25th season with a smashing production of Pushkin story
Book Review
Slovenian philosopher Slavoj Zizek weighs in on America's discontents
Stage Review
'The Book of Liz' makes cheese balls funny at Renegade Theatre Experiment
Stage Review
'The Foreigner' gets found in translation at San Jose Rep
Stage Review
Second Wind Productions comes to San Jose to look at race relations in 'Flag Day'

Letters to the Editor
September 10 - 16, 2008