09.24.08
home | the papers | metro silicon valley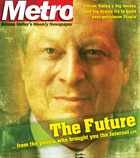 The Green Gold Rush
Silicon Valley marshals powerful innovation and big money to fuel an exploding clean-tech revolution
Tech to the Rescue
Clean-tech innovators break out a new batch of world-saving, fortune-making ventures

Political Power Grid
Silicon Valley–based Clean Tech for Obama spreads its message—and money
The Fly
The Italian Job and Evite Wars

Silicon Alleys
Key Witness
Sporting Events
The 10th Annual Tim Brauch memorial skate contest.
Events
Local fashion designer Azadeh presents some examples of her runway clothing at 'Unforgettable,' a fundraiser for Ballet San Jose. The high-concept event also includes members of the dance troupe modeling the clothes and a display of some high-end collectible sports cars. It all happens at Club Auto Sport in San Jose. Call 415.392.0106 for ticket details.
Kids Events
The Sippy Cups supply plenty of high-energy kid-friendly music whenever they go on tour. Their latest stop brings them to the Mountain View Center for the Performing Arts on Sunday (Sept. 28) at for shows at 1 and 4pm.

Movie review: 'A Girl Gut in Two'
Claude Chabrol tightens the screws on an older man having an affair with a much younger woman
Movie Review: 'Towel Head'
A young teen suffers discrimination and abuse
Movie Review: 'Battle in Seattle'
Even left-wing kitsch is still kitsch in fictionalized account of WTO protests
Movie Review: 'The Lucky Ones'
Tim Robbins helps some Iraqi soldiers on leave get to Vegas
Movie Review: 'Nights in Rodanthe'
Richard Gere romances Diane Lane in an update of a '40s weeper
Cult Leader
The legacy of Stanley Wiater's list lives on
DVD Review
'Road House'
DVD Review
'First Among Equals'
DVD Review
'Belphégor: Phantom of the Louvre'

MORE MOVIE REVIEWS

MOVIE TIMES

Sublimation
San Jose Mariachi Festival singer Lila Downs transcends her political demons on her newest album, 'Shake Away'
Experimental Jet Set
Sonic Youth's Kim Gordon teams up with Phantom Orchard for 'The Song Project'
Music Picks
San Francisco Blues Festival, Chanticleer and Neil Diamond

MORE MUSIC AND NIGHTLIFE

MUSIC AND CLUBS LISTINGS

MUSIC AND NIGHTLIFE CALENDAR PICKS

Art and Parcel
Santa Clara's Parcel 104 maintains its commitment to culinary excellence
Live Feed
Send It Back
5 Things to Love
Locally Harvestable Sea Vegetables

BOOK A RESTAURANT RESERVATION

FIND A RESTAURANT REVIEW

Museum Review: 'Leonardo'
The Tech Museum of Innovation in San Jose explores the genius of da Vinci
Stage Review
'The Full Monty' strips for action at American Musical Theatre (already posted)
Book Review: 'South Santa Clara County'
Historical photos illuminate the history of Morgan Hill, Gilroy and points south
Book Review: 'Obscene in the Extreme'
A new book by Rick Wartzman recalls the battle to ban 'The Grapes of Wrath'
Book Review: 'The Predator State'
James K. Galbraith exposes the neocon fantasy of free markets

Letters to the Editor
September 24 - 30, 2008