10.08.08
home | the papers | metro silicon valley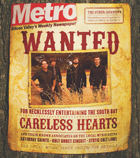 Rocktober
Live Rock Music in the South Bay | Careless Hearts | Saturday Saints | The Holy Ghost Circuit | Get Thrashed | The Pilots Wife | Static Cult Label

Tourist Trap
Homeland Security sets up a new San Jose office to apprehend immigrant fugitives
The Fly
Silicon Valley News Notes

Silicon Alleys
Captured by Robots!
Style
Recession Proof
Sporting Events
The Silicon Valley Roller Girls are headed your way this Halloween.

Movie Review: 'Rachel Getting Married'
Jonathan Demme throws a wedding and Anne Hathaway steals the show
Movie Review: 'The Duchess'
Ralph Fiennes, Keira Knightley and the costumes outshine the script in 18th-century memoldrama
Movie Review: 'The Brothers'
The Stanford Theatre in Palo Alto revives a lush Scottish drama set on the Isle of Skye
Movie Review: 'Body of Lies'
Is there a screen big enough for Russell Crowe and Leonardo DiCaprio in one shot?
DVD Review
'How the West Was Won'
DVD Review
'Jellyfish'
DVD Review
'Love and a .45'
DVD Review
'Artifacts'

MORE MOVIE REVIEWS

MOVIE TIMES

Hat Trick
Weezer understands the importance of appropriate head gear.
Music Picks
Gypsy Soul, Rock Band Live and Santana

MORE MUSIC AND NIGHTLIFE

MUSIC AND CLUBS LISTINGS

MUSIC AND NIGHTLIFE CALENDAR PICKS

The Other Japantown
Exploring a lesser-known spot for Japanese culture in the South Bay
Live Feed
Fall Openings
5 Things to Love
Food Bargains

BOOK A RESTAURANT RESERVATION

FIND A RESTAURANT REVIEW

Stage Preview: 'Cabaret Unkempt'
Body-image issues highlight MACLA show
Stage Review; 'The Rose of Persia'
Lyric Theatre of San Jose has fun with Sullivan operetta
Classical Preview
New Music Works of Santa Cruz steps out on its 30th anniversary
Book Review
'Glazed America,' by Paul R. Mullins, reviewed by Matthew Craggs
Book Review
'Acedia & Me,' by Kathleen Norris , reviewed by Richard von Busack
Classical Preview
Mission Chamber Orchestra goes to Spain for Iberia! concert
Classical Preview
The Steinbeck Society hosts a concert by Garrick Ohlsson

Letters to the Editor
October 8 - 14, 2008