October 11-17, 2006
home | metro silicon valley index | the arts | stage | profile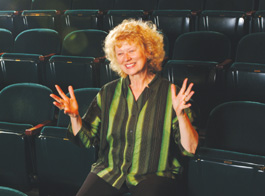 Photograph by Kevin Berne
Balancing Act: The Rep's artistic director, Timothy Near
Risky Business
Good theater doesn't come cheap; San Jose Repertory Theatre tries to right its financial ship without selling out its artistic soul
By Marianne Messina
IT IS not so unusual that the San Jose Repertory Theatre Company is in financial trouble. (The group needs a "bail-out" or loan of at least $1 million—the San Jose City Council is scheduled to vote on the request Oct. 17.) According to the Theatre Communications Group report Theatre Facts 2005, 43 percent of the not-for-profit theaters in the country joined the Rep in the red.
The picture painted by the report shows an entire industry staying afloat by the slimmest of margins through a series of weaves and dodges. Since 2001, "Ticket sales cover a decreasing proportion of expenses." If a theater is lucky, sales from tickets and subscriptions will cover about half their expenses. "Theatres are seeing declining audiences despite increases in the number of performances offered."
On average, 63 percent of subscribers nationwide renewed their subscriptions during the year of the survey (by contrast, San Jose Rep has a 75 percent renewal rate). As for operating costs, "Theatres apparently employed their cash reserves in 2005 to meet their cash-flow needs. As a result, reserves were at a five-year low."
Not-for-profit theater is a risky business. "Risk is a necessary part of what we do," says Mark Bernstein, managing director of the Repertory Theatre of St. Louis. He worried this season about the new play his company produced, Ace. "Any time you do a new show, the risk is higher." The Rep has gone up against this risk with some new productions in recent years, including The Haunting of Winchester, and Making Tracks, which involved local theater groups.
Still holding his breath as San Jose Stage Company runs the new work Lil' Darlin', artistic director Randall King amplifies Bernstein's concerns. "A nonprofit theater has a snowball's chance in hell."
Though most theaters aren't anxious to talk about their horror stories and close calls, almost every theater has them. King remembers "the feeling we had that it was over" back in the 1980s. The company had to make drastic, chancy moves and walk away from a deal for a new theater space. "We had to pull up roots and go on the road."
But solutions are not simply about cutting costs or retreating into the kind of mainstream entertainment that some critics think audiences crave. In fact, the Stage Company took a huge financial risk, scraping together enough to put up Angry Housewives as a "homeless" company in a borrowed space. "It was the 11th hour," King recalls, "and we almost closed the production, and then in the seventh week it took off." Angry Housewives went on to a three-year run, and ultimately got the company both into the black and into their new space on First Street.
A good artistic director has to have the instincts of a high roller to make the risks pay off, but the payoff isn't always cash in hand. For example, a risk that San Jose Repertory Theatre artistic director Timothy Near took in the 2003-2004 season is still reaping benefits today, even though inviting the intensely creative Anne Bogart and her troupe, SITI Company, was extremely costly. Doing things Bogart's way comes with the territory. "You can't squeeze her into a box," Near explains.
To mount Shakespeare's A Midsummer Night's Dream (Near chose the play), Bogart required everything from stainless-steel floors to a sound man in rehearsals on a daily basis. But Near had planned the season to offset those costs by filling the other slots with large-drawing comedies like Noises Off.
Still, A Midsummer Night's Dream was itself a success, drawing the second-largest audiences of the season (more than 16,000) after Noises Off. Now, as it happens, SITI is touring that version of A Midsummer Night's Dream throughout New England. "That production was born in San Jose," Bogart says. "People are hearing that everywhere it goes." People also heard about the Rep's Iphigenia at Aulis, another costly production, as it picked up at least one international award.
What exactly is a nationally or internationally recognized theater worth to a city like San Jose? "It shows we're a big city, that we support that kind of culture," says Dan Fenton, executive director of the San Jose Convention and Visitor's Bureau. A well-respected theater, he maintains, is "part of coming to a city, even for a business convention; there's still a cachet."
Fenton says that visitors look for experiences they won't get at home. That fact combines with the recent trend in business travel to bundle work with vacation to make the Rep a potential selling point for San Jose. Colorful images from the Rep's past performances show up in Fenton's PowerPoint presentations, and the city got great mileage from the Rep's "high-profile performances" by Lynn Redgrave and Holly Hunter.
Fenton also cites the recent City Lights production of Jesus Christ Superstar as a big out-of-town seller. With a huge cast and more floor space than the company has stage, Superstar was another big risk (artistic director Lisa Mallette often refers to Near as a mentor for encouraging her to make bold moves).
In response to what losing San Jose Rep would mean in his industry, Fenton replies, "It's a major offering. If you think of it from a product perspective, it's like somebody said, 'You're going to take a major thing off your shelf.'"
Number Crunching
In terms of financing day-to-day operations, theater fiscal practices would make most number crunchers' hair stand on end. Theatre Facts reports that "borrowing funds to meet daily operating needs," has been a fact of life for theaters lately, 2005 in particular. The average working capital (over all theaters studied) was about negative half a million. And theaters the size of the San Jose Rep "experienced particularly acute negative working capital, leaving them with little financial flexibility."
Not only that, but if you simply take the city/county contributions away from the nonprofit theaters' balance sheets, the average "group 5" (the size of San Jose Rep) theater would not be bringing in enough to meet expenses.
Call it charity or a city's marketing expenses, not-for-profit theaters rely heavily on contributions. According to Scott Knies of the San Jose Downtown Association, the city is committed to the arts, even though the city's hotel tax took a hit after 9/11: "Our hotel occupancy tax, our business travel just fell off the table. And that was a major source of funding for operating grants for arts groups."
Explaining how that situation affected San Jose Rep, Timothy Near likened it to traveling full speed ahead, coming to a cliff and just not putting the brakes on in time. Not to mention that more recently the Rep lost a substantial contributor in Knight Ridder, when the San Jose Mercury was sold to MediaNews. "You don't recover from those cuts in 24 months," King comments.
In spite of the downturn, Knies believes that the dotcom boom got something started in San Jose that other cities work much longer to achieve: "Our arts groups are on their path."
And San Jose Rep (founded in 1980) itself is relatively young compared to 50-year-old East Coast theaters supported by self-sustaining endowments and foundations that can cover up to two-thirds of their expenses. Amid all this, an artistic director's balancing act includes costs, audience expectations, artistic merit, topical interests, investment in the local community—and reputation.
As an artistic director himself, Knies, whose organization also offers Music in the Park and other series, enjoys balancing the tensions of a multicultural city: "You have to give the people what they want, but you also have to keep to your artistic vision."
Artistic vision is at the core of any arts group's mission. It's an artistic director's expertise (and often obsession), it's that intangible that gives the city its "cachet.
"I'm in heaven when we're doing something enormously entertaining," says Near, "that has a message, that is going to get people talking and arguing and stimulated, whether they're mad or happy—that they're excited." Yet artistic vision never comes up in discussions of "fiscal responsibility" and "mismanagement." Instead, finger pointers suggest that if only the company would present familiar comedies and uplifting dramas, ticket sales would soar.
Well. It's hard to call what patrons want to see. In letters and blogs of support for the Rep, subscribers reported enjoying shows that, on paper, they thought they wouldn't like at all. And Near reports that some of the most heartwarming audience responses have come from heavy-content shows that large numbers of people stayed away from, for example, The Tricky Part, a one-man production that dealt with child abuse. "It was about healing," says Near, who thought its spiritual value made it important. "After the show, people would gather around the stage, and he would hold people's hand while they told their stories."
Anne Bogart views the partnership between fiscal managers and artistic managers as a union between those who function primarily from the right brain and those who function primarily from the left. As managing director of the Repertory Theatre of St. Louis, Bernstein balks when you ask him about play selection.
"That's something you'd be better off asking Steve [Woolf, the company's artistic director]." He and Woolf have been putting up seasons for 20 years in a relationship as rare as a healthy 20-year marriage. "You have to find two people who have a common vision," Bernstein admits. Bernstein reports that he has rarely, if ever, nixed a project Woolf proposed, because he sees his job as "trying to make these things happen."
It was this rare kind of relationship that existed between Near and Alexandra Urbanowski, the Rep's longtime managing director. Like Bernstein and Woolf, Near and Urbanowski shared a vision. "[For] 16 years—which included building advocacy for this building, fundraising for this building, and the next wave of the New Plays Festival, putting on new work, reaching for the vision—Alexandra was right by my side through all of those achievements," Near says.
Near admits that "this was [Urbanowski's] first career out of college, so I always knew that she would want to eventually go on." Still, Near reports that her overall feeling she had on Urbanowski's departure at the end of 2004 was one of sadness.
Near estimates that the company was adrift for nearly six months between the time Urbanowski announced her departure and the arrival of her replacement, David Jobin, not to mention that Jobin naturally had a learning curve, which was spent "under duress."
It's tempting to view a sort of "fiscal depression" as a metaphorical response to the loss of such a rare partnership. For San Jose, Near's artistic vision is a statement rising up from the city's heart in the form of the Rep's building itself, which she helped design. The building—like the city, she thought—cuts a creative, high-tech profile outside; inside, the seating sections curve in what Near calls "embraces." She wanted audience members to be aware of each other.
Near is visually perspicacious. Her theatrical ideal has many layers, a lot of visual tension and movement that speak on many levels. It's the sort of vision that brought San Francisco's sensational Dance Brigade into the award-winning production of Iphigenia at Aulis.
Anne Bogart talks about how this sort of inspiration comes from very early experiences: "Your life is changed by something," and you want to pass it on. Tracing the roots of her own inspiration, Near recalls watching a "dance" on the lawn of her childhood home between her dog and a skunk, approaching in curiosity, darting away in fear. "They both were in great danger and this emotion created this physical dance." An artistic director works to keep that moment of fascination alive and re-create it for audiences.
Solutions
Studying the turn-arounds of the many once-drowning theaters across the country may offer some solutions for the serious fiscal shortfall facing San Jose Rep. For example, Providence's prestigious Trinity Theater turned itself around by establishing a cooperative program with Brown University's Theater Department. Perhaps there's something similar to be done with San Jose State University. Already, in early September, the Rep and American Musical Theatre of San Jose (another group with financial issues) initiated a project to cut costs by combining their box office and costume and scenery shops.
Everyone who spoke for this article feels certain (even optimistic) that creative solutions can be found. Without exception, discussions of the Rep's difficulties came around to the idea of "pulling together." Both Fenton and Knies said their organizations are prepared to work with the city and the Rep to help keep the company afloat, and Fenton specifically said his organization could help by booking events into the Rep when it's not in session.
Randall and Cathleen King (a literal marriage between executive and artistic director) would like to see San Jose's theater community pooling resources. With Theatre Bay Area as a catalyst, Cathleen worked on a prototype for this idea, supported by the Packard Foundation. She points out that with a little financial support, this and similar creative, cooperative efforts could continue and benefit all South Bay theaters. The Kings admit that as a flagship theater, San Jose Rep helps attract the talent pool their company draws from.
Even in light of a possible city-sponsored bailout, others beside the Kings supported the additional stipulation that the city use its financial leverage to foster cooperative efforts within the South Bay's rich theater community.
Imagine putting all those creative minds in a room and letting the ideas fly: Maybe we'd see the Renegade Theatre Company in a play-within-a-play at San Jose Stage, and Ballet San Jose in a San Jose Rep production of a play about ballet performers, and a City Lights production of The Tempest or The Merchant of Venice, with Teatro Visión interspersing a "street" version of events between each act.
And the new-works festival that the Rep tried to foster—maybe we'd see a citywide New Works Event, or a theatrical potluck, marathon style, where people come from all over to San Jose, going from theater to theater. After all, whoever believes in theater knows we are such stuff as dreams are made on.
Send a letter to the editor about this story.