10.22.08
home | the papers | metro silicon valley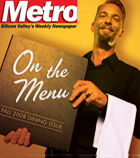 The Waiting Game
Silicon Valley's top servers aren't just recognizable faces—they're local dining institutions
Cheap and Delicious
  25 great spots for affordable dining

Map Dance
Prop 11 would end a system that lets lawmakers make up their own legislative districts By Paul Wagner
The Fly
Silicon Valley News Notes

Silicon Alleys
Our Soccer Legacy
Style
Design Goes to the Dogs and Cats
Sporting Events
Running Scared
Kids
Redwood City welcomes the Italian traditional (all the way back to the mid-1800s) Zoppe Circus for four days of performances by Nino the clown, a host of acrobats, dancing canines and lots more, all enacted in an old-fashioned, low-tech way (the anti–Cirque du Soleil in a sense). The show starts Oct. 23 with a gala performance and runs through Oct. 26 next to the library in downtown Redwood City.

Film Festival
The Silicon Valley Jewish Film Festival returns for a month of features and documentaries
Film Festival
The U.N. Association Film Festival takes over Stanford for the weekend
Film Review: 'Momma's Man'
A filmmaker returns home for an extended visit with his eccentric parents
Cult Leader
Halloween, A to Z
DVD Review
'Busby Berkeley Collection, Vol. 2'
DVD Review
'Gigi'
DVD Review
'Before the Rains'
DVD Review
'Bright Lights, Big City'

MORE MOVIE REVIEWS

MOVIE TIMES

Good Feeling
Saintly pop star Amy Grant is addicted to helping
Music Picks
The Mountain Goats, Chris Cornell and Jacqui Naylor

MORE MUSIC AND NIGHTLIFE

MUSIC AND CLUBS LISTINGS

MUSIC AND NIGHTLIFE CALENDAR PICKS

Viva Willow And Vine
San Jose neighborhood is a little-known spot for great Mexican food
Live Feed
Valley of the Stars
5 Things to Love
Local Winter Brews

BOOK A RESTAURANT RESERVATION

FIND A RESTAURANT REVIEW

Art Review: Women at Work
A new show at History San Jose showcases the textile and sewing skills of valley women through the years
Stage Review
'Splitting Infinity' raises provocative questions at SJ Rep
Stage Review
Teatro Visíon gives new twists to Cisneros' 'The House on Mango Street'
Stage Review
Meredith Monk make eerie music at Stanford Lively Arts in 'Songs of Ascension,' but what did it all mean?
Classical Music Review
Symphony Silicon Valley put forth its best for guest conductor George Cleve
Books
Writers from 'The New York Review of Books' and the 'Guardian' America travel to Kepler's on Oct. 28 to discuss life after Bush

Letters to the Editor
October 22 - 28, 2008