10.24.07
home | the papers | metro silicon valley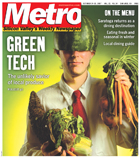 How Silicon Valley Tech Companies Are Saving Northern California's Local Produce
The tech industry once ravaged the Valley of Heart's Delight, but in a weird twist of fate, tech giants like Google, Yahoo! and eBay are now the catalyst for an agricultural rebirth.
Back in Season
Local chefs come in from the cold to prove winter is still a prime time for fresh local produce By Cheryl Sternman Rule
The Second Coming Of Saratoga
New energy and opportunity is putting it back on the culinary map.

Signs of Life
Business has finally signed on for health-care reform. Will it be radical enough for Silicon Valley?
The Fly: 10.24.07
Bait and Switch, The Diridon Factor, Shock Blocker & Log Jam.

Silicon Alleys:
Bodies at the San Jose Tech Museum vs. Robots at the McEnery Center
Technology news
Sometimes scientist are as dumb as the rest of us
Sporting Events
Roller Derby Girls
Kids Events
'Disney's High School Musical: The Ice Tour' brings the singing, dancing teens of East High to the HP Pavilion for shows Oct. 24–Oct. 28.

Movie Review:
'Reservation Road' cries a river of tears
Movie Review:
'Lars and the Real Girl'
Film Festival:
The Arab Film Festival
Film Festival:
The San Jose Jewish Film Festival
Film Festival:
The U.N. Association Film Festival
Cult Leader:
Former Bay Area TV Horror Host John Stanley Gets His Due

MORE MOVIE REVIEWS

MOVIE TIMES

Halloween Roundup
All dressed up? Now find somewhere to go.
This Week's Music Picks
Billy Ray Cyrus, 40831 & Bruce Springsteen
Classical Music Picks:
October 24-30

MORE MUSIC AND NIGHTLIFE

MUSIC AND CLUBS LISTINGS

MUSIC AND NIGHTLIFE CALENDAR PICKS

ThoroughBred
Plumed Horse returns as Silicon Valley's premier luxury restaurant.
Live Feed
Am I Too Nice?
5 Things to Love
Pumpkin Facts

BOOK A RESTAURANT RESERVATION

FIND A RESTAURANT REVIEW

Border Lines:
Teatro Vision unveils a new play about immigration
Memory Man:
Joseph Cornell retrospective at SFMOMA
Books
Reviews of 'Broken Government' & 'Being Shelley'

Letters to the Editor
October 24-30, 2007.