10.24.07
home | metro silicon valley index | silicon valley restaurants | review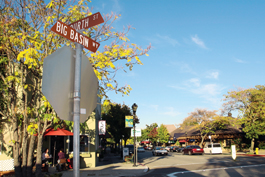 Photograph by Felipe Buitrago
SARATOGA AT A CROSSROADS: Big Basin Way, downtown Saratoga's main street for fine dining, is becoming a destination once again.
The Second Coming Of Saratoga
A sudden jolt of new energy and opportunity is putting it back on the culinary map.
By Stett Holbrook/b>
ONCE the darling of Silicon Valley's restaurant scene, downtown Saratoga is primed for a second act as one of the South Bay's premier culinary destinations.
Decades before the Food Network elevated chefs to rock star status and made dining out the cultural equivalent of a night at the opera, downtown Saratoga—"the village," as boosters call it—was the South Bay's place for culinary thrills. As Silicon Valley enjoyed the first gushers of electronics and semi-conductor industry wealth, restaurants such as Le Mouton Noir, Le Mere Michele, The Adriatic, Gilley's and the Plumed Horse were the places to go to toast the good life.
But things changed, and many of those restaurants left the scene. Big Basin Way was just as quaint and charming as it ever was, but new restaurants in Palo Alto, Los Gatos and San Jose eclipsed Saratoga's antiquated lineup of restaurants.
However, over the past few years a number of new restaurants and specialty shops have opened to make Saratoga a destination for food and wine lovers once again. And with the Plumed Horse's rebirth as an ultra-luxury restaurant two months ago following an extensive remodel (see review, page 35), Saratoga is likely to get more attention for its culinary attractions.
Sent Sovi was the first of Saratoga's second generation of high-quality restaurants. Chef Josiah Slone stepped into the big shoes left by David Kinch when he took over the restaurant in 2003. Slone serves an inspired menu of seasonally focused, California-French food that makes it one of Silicon Valley's best fine dining restaurants.
Kinch put the restaurant on the map, but when Slone took over the business climate was less than favorable. But things are much brighter now, says Slone.
"I think there's the beginning of a renaissance in the village," he says.
While the flashy retail shops and restaurants of Santana Row and trendy eateries in Los Gatos draw many of Silicon Valley's diners, Slone says Saratoga occupies its own niche.
"Saratoga can definitely fulfill a need that's not being met," he says.
Mary Loomis, owner of Saratoga Chocolates, is a specialty chocolate maker who added to the city's street of good eats when she opened two years ago.
"I've always thought Saratoga was pretty good on the food side, but with the Plumed Horse opening there's a huge opportunity," she says.
But Loomis says the city needs to do more to attract a younger crowd, maybe with another bar or two.
It's not quite a bar, but the Cinnabar winery's downtown tasting room is a good start. There are scores of great wineries located in the mountains just above Saratoga, but after a few glasses of wine, driving the winding roads to go wine tasting can be risky. So Saratoga's Cinnabar winery brought their tasting room down the hill earlier this year. It's a wonder more wineries don't do the same.
"We though it would be the best way to showcase our wines," says tasting room manager Ken Om'Iniabohs. He says the tasting room gets about 100 people on weekends, and with La Fondue restaurant's move into a bigger and better space nearby, and particularly the Plumed Horse's reopening, business is looking good.
"It's bringing a lot of high-roller traffic," he says.
Patrick Rupert opened Uncorked wine shop and tasting bar on Big Basin four years ago and has watched the downtown evolve. "I think we're poised with the new restaurants that have opened to be a destination place," he says.
He too would like to see downtown Saratoga diversify and become more lively.
"This can't be just a sleepy community," he says.
Rupert points to the Village Center as one of downtown's weak links. He wants the shopping center torn down and turned in a "mini Santana Row" with retail shops below and condominiums above.
The shopping center is in sore need of a facelift, and at last count there were four empty storefronts. The Buy and Save market that anchors the shopping center has the feel of a place that isn't living up to its potential.
A developer proposed a mixed-use plan complete with underground parking, but the city thought it was too big. There could still be a scaled-down project, however.
One of the tricky parts of any development plan is figuring out what kind of housing to build. Condominiums are currently prohibited downtown but they would make the project more financially viable than just rental units.
Saratoga City Councilmember Chuck Page has been a vocal advocate for a reinvigorated downtown business district and he sees restaurants as a key part of that, although he wants to see more than just new restaurants opening in the village.
"The village can't live on restaurants and fine wine alone," he says.
He applauded a previous City Council's decision to eliminate parking requirements for new restaurants. Formerly, any new restaurant had to provide a certain number parking spaces for customers, a requirement he felt stifled new business growth.
As the council revisits its housing policies in the coming months, Page wants to see changes that will allow for more rental and for-sale housing development downtown, changes that will create an even more business-friendly climate. "When you have people that live here, you have built-in foot traffic," he says.
Send a letter to the editor about this story.