10.29.08
home | the papers | metro silicon valley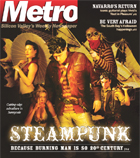 Boiling Point
Steampunk retrofits the technology of the present with the aesthetics of the past. The first-ever convention brings it.

Street Justice
Students march on County Building to protest Prop. 6
Disrupt the Vote
Nancy Pelosi talks tech in Mountain View
The Fly
Silicon Valley News Notes

Silicon Alleys
The Valley's First Startup
Style
Downtown Style On the Rise
Events
Kirsten Menger-Anderson's new novel, 'Dr. Olaf van Schuler's Brain' (Algonquin Books), charts the strange course of a 17th-century physician who migrates to New Amsterdam and spawns generations of eccentric healers, well schooled in the arts of phrenology, psychosurgery and genetics. Menger-Anderson makes a booksigning appearance on Thursday (Oct. 30) at 7:30pm at Kepler's Books in Menlo Park.
Kids
The Nickelodeon favorites the Backyardigans move from the tube to the stage for a live show called 'Tale of the Mighty Knights,' starring Uniqua and Tyrone in a quest to save King Pablo's egg. The performances are Nov. 5 at 7pm and Nov. 6 at 10:30am and 7pm at the Flint Center in Cupertino. Call 408.998.8497 for ticket details.

Movie Review: 'Happy-Go-Lucky'
Mike Leigh looks on the bright side of life
Movie Review
'Saving Marriage'
Movie Review: 'Zack and Miri Make a Porno'
Kevin Smith gives a Lubitsch twist to a dirty comedy
DVD Review
Casino Royale
DVD Review
The Picture of Dorian Gray
DVD Review
The Three Stooges, Vol. 4
DVD Review
Pathology
DVD Review
Trial & Retribution, Set 1

MORE MOVIE REVIEWS

MOVIE TIMES

Creature of The Night
San Jose's Kung Fu Vampire steps into the light with 'Dead Sexy'
Dave Navarro
Performs on Saturday Oct. 27 at 9pm at Vivid in San Jose.

MORE MUSIC AND NIGHTLIFE

MUSIC AND CLUBS LISTINGS

MUSIC AND NIGHTLIFE CALENDAR PICKS

Legends of The Falafel
A balls-out tour of Silicon Valley
Live Feed
Make Some Bread

BOOK A RESTAURANT RESERVATION

FIND A RESTAURANT REVIEW

Art Review
Flo Oy Wong gives voices to the past in her installations at the Community School of Music and Art
Stage Review: 'Nickel and Dimed'
Working for the man at Pear Avenue
Book Review
'Yesterday's Weather: Stories' by Anne Enright, reviewed by Karen Laws
Book Review
'The Forever War,' by Dexter Filkins, reviewed by Richard von Busack

Letters to the Editor
October 29 - November 4, 2008