12.03.08
home | the papers | metro silicon valley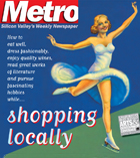 Holiday Gift Guide
Why Shop Local? | Style | Food & Wine | Cultural Passions | Green Gifts | DVDs | Books

Madison Nguyen's Last Stand
Inside the embattled councilmember's recall fight
The Fly
Silicon Valley News Notes

Silicon Alleys
Rebel Revisited
Style
Creatures Featured
Sports
Fixed Race
Events
Photographer Joe Claus has been celebrating the people who run small businesses in our area with a photographic series called 'My Neighbors.' Claus will exhibit samples of his black-and-white portraits of local business owners at the Dr. Martin Luther King Jr. Library, on the second floor, staring Sunday (Dec. 7, 1–4pm) with a reception and running through the end of January. Pictured is Alfredo of Liquid Agency, Brand Marketing, a business on South Market Street in San Jose.
Kids: 'The Elves and the Shoemaker'
California Theatre Center presents the cheery family fun play 'The Elves and the Shoemaker,' Dec. 6 at the Sunnyvale Community Center Theatre; call 408.245.2978 for tickets.

Movie Review: 'Milk' rises to the top
Sean Penn and Gus van Sant relive the days of triumph and tragedy
Film Review: 'Punisher: War Zone'
Ray Stevenson lays waste to his enemies
Movie Review: 'Cadillac Records' spins quite a tale
The story of Muddy Waters, Howlin' Wolf and Chess Records recalls a vital musical era
Movie Review: 'Dear Zachary'
The director visits San Jose for special showings of his harrowing documentary

MORE MOVIE REVIEWS

MOVIE TIMES

Vocoded
Kanye West 2.0 arrives with mixed results
Music Picks
Oasis, California Dreamin' and Candye Kane

MORE MUSIC AND NIGHTLIFE

MUSIC AND CLUBS LISTINGS

MUSIC AND NIGHTLIFE CALENDAR PICKS

Happy Days Here Again
Billy Berk's brings a good-times vibe to the South First scene
Silicon Veggie
Vegan Improv

BOOK A RESTAURANT RESERVATION

FIND A RESTAURANT REVIEW

Special Film Event: 'Metropolis'
Stanford Lively Arts screens silent classic with modern orchestral score
Stage Review: 'Around the World in 80 Days'
San Jose Rep brings Jules Verne's globetrotting adventure to town in a new stage adaptation
Book Review: 'Everyday Drinking'
A new collection by Kingsley Amis salutes the cocktail
Book Review: 'The Hell-Fire Clubs'
A history of 18th-century English clubs debunks some sensational myths

Letters to the Editor
December 3 - 9, 2008