12.17.08
home | the papers | metro silicon valley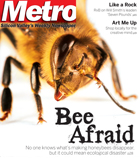 The Vanishing Swarm
No one knows the cause of Colony Collapse Disorder. But it could mean ecological disaster.

Flex Time
Under Pat Dando, the Silicon Valley Chamber of Commerce has amped up its political efforts—with mixed results
The Fly
Silicon Valley News Notes

Silicon Alleys
Market Fresh
Style
Fashion Flap
Sports
The 14th Annual Los Gatos Resolute Run
Events
The carousel keeps spinning daily through Jan. 1 at Winter Wonderland, an arcade of family-fun rides in downtown San Jose.

Movie Review: 'Seven Pounds'
Will Smith carries the plot like a weight around his neck
Movie Review: 'Yes Man'
Jim Carrey and Zooey Deschanel can't say no
Movie Review: 'Timecrimes'
A man must solve a mystery by traveling into his past
DVD Review: 'Ludwig'
A Visconti classic restored
DVD Review: '24: Redemption'
Jack's back in bridge to the new season
DVD Review: 'Irma Vep'
A new release of a 1996 French film about filmmaking by Olivier Assayas
DVD Review: 'I Am Legend'
A collector's DVD set comes with a box full of extras
DVD Review: 'George Gently'
Martin Shaw stars as a weary detective in 1960s England

MORE MOVIE REVIEWS

MOVIE TIMES

Less Is More
Razor-pop beckons new listeners to a minimalist musical era with deep roots

MORE MUSIC AND NIGHTLIFE

MUSIC AND CLUBS LISTINGS

MUSIC AND NIGHTLIFE CALENDAR PICKS

Thai Again
The new Siam could change the way you look at Thai cuisine
Live Feed
Slow on the Row
The Wine Column
Doon Times

BOOK A RESTAURANT RESERVATION

FIND A RESTAURANT REVIEW

Book Review: Douglas Fairbanks
A new biography and DVD collection recall the exuberant style of the great silent star
Dance Review: 'The Nutcracker'
Ballet San Jose satisfies that holiday itch
Book Review: 'The Best American Comics 2008,' edited by Lynda Barry
A wide-ranging collection offers many treats
Book Review: 'The Future's So Bright, I Can't Bear to Look'
Cartoonist Tom Tomorrow looks back on the recent past with a gimlet eye

Letters to the Editor
December 17 - 23, 2008