Movies
50/50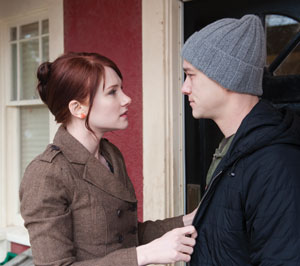 THE NEW movie 50/50, whose alternative title could be So/So, benefits from a pair of first-rate actors, Anna Kendrick and Joseph Gordon-Levitt. Their work is regularly disrupted by Seth Rogen, the movie star who got director Jonathan Levine's cancer-themed film made. In regularly scheduled bullish (or bullying) comedy moments, Rogen's Kyle turns up to rattle the cage of the seriously ill Adam (Gordon-Levitt). When Rogen is gone, the film develops interesting counterpoints. Rather than just the sketchily drawn victim of a dread form of cancer (an obscure spinal kind), Adam may be a kind of a princeling; he is certainly a bit remote.
It's interesting to see one of the best young actors around working on the part—underplaying it and finding some humorous notes (a cool slow-mo saunter through the hospital, heavily stoned on marijuana macaroons). Adam is vaguely a radio journalist, owns a Charlie Parker poster but doesn't seem to listen to jazz, and keeps a menorah but doesn't seem Jewish in the customary movie sense—he is neither sarcastically verbal nor menschy. Adam is defined by the contrast between the two girls in the picture. One is his bitchy live-in girlfriend, Rachael (Bryce Dallas Howard, doing what she can with yet another punitive part), and the very nice but inexperienced grief counselor Katherine (Kendrick, unusually cast in a role of shy, toothy embarrassment).
Rogen is the shot-caller: a sloppy, lecherous wreck insisting on what the dick needs. If anything, Rogen's ultimate contribution to cinema is taking the fun out of that game where you pretend that the hero and his buddy are lovers. Bromance has to go ever further to get the outraged laughs, ever closer to the unambiguous, direct sexual come-on. On the bright side, this may be the least-spiritual film about facing death we've seen. And the mood is right; donating a fog-bound despair is Vancouver, clearly not the Seattle it's pretending to be. (No one worries about the hospital bills, for instance.)
Elder actors spice up the film. As Adam's mom, Anjelica Huston directs a tigerish glare at a nurse. ("My son has cancer," she says, as an argument that the air conditioning ought to be turned down.) Philip Baker Hall, as the man in the next seat at the chemo clinic, gives the surprisingly big endorsement of those magic cookies.
R; 99 min.
Opens September 30 /p>