Movies
'A Girl Walks Home Alone at Night'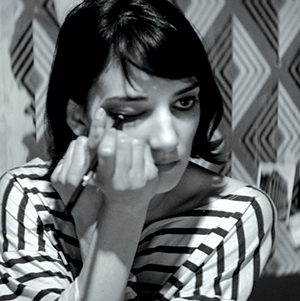 Even if you won't see many movies as cool and beautiful as director Ana Lily Amirpour's A Girl Walks Home Alone at Night, it needs a little sifting to distinguish its accomplishments. It's not the first time a Persian filmmaker, scripting in Farsi, has used the New World for a forbidden Iranian location; Silicon Valley's own Mohammad Gorjestani re-created a modern Iranian roadside in British Columbia for his short "Sayeh" (The Shade). In Amirpour's voluptuous re-creation of a half-empty oil town nicknamed "Bad City" (Taft and Bakersfield provide the desolation), this highly talented director/writer works in the trad of Von Sternberg's Morocco and Welles' Touch of Evil. She isn't pioneering the black and white avant-garde vampire movie with allegorical heroin use. Almereyda's Nadja and Abel Ferrara's The Addiction—films made almost a generation ago—depicted the quest for numbness by those young and hurt by love. And this year Jim Jarmusch did his own avant-garde vamp film Only Lovers Left Alive. Jarmusch is likely an influence in one of Amirpour's ideas—the way the show stops to listen to a vintage British tune "Death" by White Lies. The old song speaks, as it were, for a lovely female vampire of few words.
Here's what is all Amirpour: the surprising vision to transform a hijab into a vampire's cape when The Girl (the startlingly expressive Sheila Vand) goes on her rounds as parasite and avenger. Unique to Amirpour is the vision of The Girl commandeering a skateboard so she can glide just like Dracula, or to have her play an uncanny mirror game with a passerby on an otherwise empty street. Amirpour also found Arash Marandi, as Arash, a troubled young drug-dealer who charms The Girl. Marandi has a soulful comedic side to counteract the horror-show material—it's a quality Brendan Fraser has when he's at his best. Arash is suffering from family angst; mother (Mozhan Marno, recalling Melina Mercouri) is a witchy prostitute, his father (Marshall Manesh) is a junkie, and there's something uncanny about the family cat, too. Amirpour's taste also shows in hiring director of photography Lyle Vincent, equally superb at illuminating the blurry edges of the night, or in using a fine enough grain to highlight the dust motes in a moribund man's apartment.
A Girl Walks Home Alone at Night
Unrated; 99 min.