Movies
Review: 'A Quiet Passion'
The life of Emily Dickinson is explored in this subtly humorous film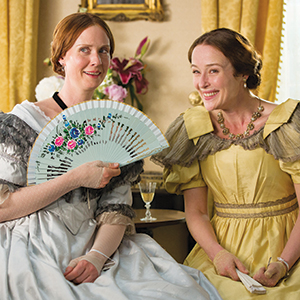 The title of A Quiet Passion is kind of lethal. "Quiet" is a risky word in the movie biz. The film's pace is very deliberate—the first impression is of a game that went into extra innings. There's a line here any critic could take to heart: "All the best compliments are dubious." Praising the deliberateness of this movie's pace may make it sound boring.
When it's over, it's clear that the eminent director Terence Davies, a master of moody, immersive cinema, needed time to contrast the body and soul of his subject.
Davies (Distant Voices, Still Lives) focuses on Emily Dickinson (Cynthia Nixon), a lady of solitude and physical sufferings: "The Queen of Cavalry" as she called herself, tortured to an early grave at 55 by Bright's disease. She was the middle daughter of a family of three in Amherst, Massachusetts. The father (Keith Carradine) was a stern patriarch of a lawyer, but he had the intelligence to let his daughter live her unmarried life, letting her rise at 3 to get some writing time in before the sunrise.
This anchoress saint of poetry only published a few poems in her lifetime, and hand-stitched her verse into little chapbooks. The apparent lightness of the lines disguise their tensile strength; her telegraphic bursts of words, connected by dashes, are as light as a feather and as dense a $6 loaf of bread. Dickinson capitalizes nouns and ideas like a German, but she didn't address herself to Great Themes, at least not in the 19th century understanding of what great themes were. As critic Edmund Wilson noted, Dickinson barely mentioned the Civil War in her writings.
What was seen of her poetry was dismissed, as by one editor, as "Childish, like nursery rhymes." When a few admirers turn up, later in life, she treats them with arrogance. She's particularly disapproving of a newspaper editor who re-punctuated her verse for "clarity."
"Clarity is one thing, obviousness is another," she insists.
Dickinson's struggle against lifelong underestimation had its light side. Sometimes wrenchingly sad, A Quiet Passion is a funny movie, by far Davies' funniest. The Sex and the City veteran Nixon captures the yeast as well as the starch of Dickinson. The movie is like a version of Much Ado About Nothing, in which a Beatrice never finds her Benedict. This vision of the poet as a keen epigrammatic woman is beguiling. And despite what's been said, this isn't fluffy and teeth-achingly arch as Whit Stillman.
A Quiet Passion speculates on Dickinson's own unfulfilled passions. One love might have been her tender friendship with a bold and funny Miss Buffam (Catherine Bailey) a similarly gifted wit. But the poet also had her famous crush on a charismatic married pastor named Wadsworth (Miles Richardson), whose wife (Simone Milsdochter) is a comedy Victorian horror.
Something Davies captures is the formality of people who have never seen themselves on camera, or heard their voices in recording. They listen to one another intently—they don't finish each other's sentences. In Emily's family circle, gradually broken by death, we see a void that can't be filled—"you cannot solder an abyss with air," as Dickinson wrote. In this world, lit by hearth or candle, music has a uniquely rapturous force. (A slow piano version of "I Dream of Jeannie" sounds as fresh, tentative, just as if Stephen Foster had just composed it.) There aren't many exteriors in the film, but the lambency of the interior light saves you from feeling trapped indoors.
At last, the "bridegroom" Death, whom Dickinson longs for in her verse, comes to consummate their marriage. Her final gasping agony mimics orgasm, which sounds grotesque on paper, but it's a brave and clear-eyed director's vision of one last sordid way body and soul are made to share their lot. The familiar lines are overlaid on the funeral: "As I could not stop for death..."— the camera suspended over the open grave, taking the measure of Dickinson's last, safest home. In this view, as the Andrew Marvell verse puts it, it's a fine and private place.
A Quiet Passion
PG-13, 125 Mins.
Camera Cinemas