Movies
Adore
Because audiences need Adore like an axe needs a turkey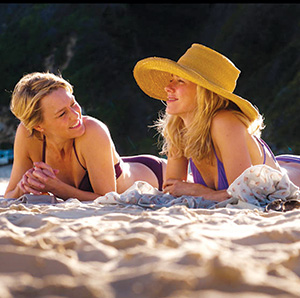 At times, Adore is almost like a new The Room. The perfect viewers could be camp-seeking gay men, or sarcastic gals who like to see an art movie under the influence of chardonnay.
It's a good-looking bad time: Two top-rate actresses, glorious Australian beachfront, Christopher (Dangerous Liaisons) Hampton on rewrite and a risky Doris Lessing novelette behind it. It is a howl from the first exchange of glances: a couple of teenage girls racing to the surf for a dip. Seated on a wooden raft, they exchange glances of glorious friendship, and it's way, way too intense, like a pair of hungry cannibals examining each other. And the girls grow, and they have sons and then the sons swim out to the raft and look at each other like that, too.
Neighbors and friends since childhood, Lil (Naomi Watts) and Roz (Robin Wright) are as close as a brace of clones. Lil's husband is being buried just as we meet him, and Roz's husband Harold (the Warren Oates-ish Ben Mendelsohn) seems like he will be an ex-husband very shortly. Lil's husband's funeral overlooks the same glorious curve of beach where Roz and Lil frolicked together as children—one gets the church-giggles from recalling the ashes of Donny the Bowler flying in Dude Lebowski's face. We can't get in the mood to mourn, and there's not enough emphasis by the director, Anne Fontaine, when Harold tells that oldie-but-goodie joke about the fine turnout of mourners: "Well, give the people what they want, and they'll show up."
When Harold takes up a job in Sydney, the two women are alone at last with their sons. It helps to remember which son is which through hair color. They're equally stunning brawn-bombs. Tom, Roz's son, is black haired and played by James Frecheville. Ian (Xavier Samuel, blonde) is the son of Lil. During the course of what looks like an endless summer, the four hang tight, admiring the photos of the moms when they were girls. Goblets of wine are drained, and one torrid night Ian lures his mom's best friend into bed. Then, sweet revenge by Tom.
The quartet covers their secret affair—Harold's bald-headed mate Saul (Gary Sweet) who has always been fond of Lil, decides that the two women are involved with each other. "We're not lezzos!" the two agree later, while lolling on the beach.
OK, so they're not secretly making love to each other using their sons as proxies, but the two are one flesh already—two halves of one sensibility. Adore is a beach-novel fantasy of liberty, but it takes itself so seriously. There is a long roster of female film directors who excel at divining the secret conflicts of women (Alison Maclean, Gillian Armstrong, Jane CampionÉ). For whatever reasons of financing, instead they exported Luxembourger Fontaine to direct this: a witty but so far minor director of farces.
The weighty talent of the two lead actors presses all the farce out of this, even though farce is the perfect way to finesse the kind of relationship that is bound to make most viewers open their mouths and point at their uvulas with their index fingers.
Wright may be a better actor than her ex-husband Sean Penn, but she's serious down to the beautiful Nordic bones. When we see her, we're not allowed to doubt the wisdom of the affair. The two women have it under control; when they line up side by side, yes, they are wise. When the arrangement hits the skids, the color goes faded and dusty so that they look like the lamenting Trojan Women.
In this film, the only joke is the one about the funeral at the beginning. The young men are such gloriously built fantasy objects, such blinding symbols of undifferentiated youth. What makes Adore one of the notable yet watchable bad movies of the year is something satisfying to male viewers. Male fantasies and the male gaze are castigated for their stupidity: and here we are, given a female version of such a fantasy, and yes, it's just as magically dumb.
100 MIN; R