Movies
Review: 'After the Storm'
The pen proves as mighty as the sword in new Kore-eda film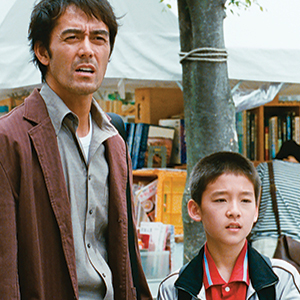 There are still Westerners who have never seen a Japanese movie that didn't have swordsmen in it. Director Hirokazu Kore-eda's new dramedy After the Storm shows what they're missing. It's his funniest and funkiest film yet.
That said, the cheaper, smudged side of Japan shows up in all his movies—like in the not-so-sweet hereafter of After Life, the grubby kids left to fend for themselves in Nobody Knows, or the beach-city fix-it shop with its tattooed proprietor in Like Father, Like Son. Even Kore-eda's lesser movies show a Japan that doesn't appear much in the movies, and After the Storm is one of his best.
It's late summer. The 23rd typhoon of the season is lurking offshore, raising the temperature to sweltering. Ryota (Hiroshi Abe) has come out by train to an old-folks apartment complex. He slurps down some noodles at the train station and goes to visit his recently widowed mom.
This good-looking Ryota could be defined in one of two ways: he's either a writer with a gambling problem or a gambler with a writing problem. He published a novel to some acclaim but few readers. Since then, the divorced man has been working as a private detective, on the grounds of researching his next book. This excuse is face-saving, not that Ryota has much face to save: he lives in a dump, he haunts pawnshops, he stalks his ex-wife, and he inaugurates sleazy double-crossing scams with the clients who hire him for divorce work, which involves staking out hot-sheet "love hotels." Abe's smoothness means the viewer sort of forgives him his trespasses: he's a rascal without any violence in him, a desperate victim of circumstances, not an out-and-out bastard. And in scenes with his mother—memorably played by Kiki Kirin—you can see where he got his hustle and charm.
Kirin, who was in Kore-eda's Still Walking, is the movie's real reason for being. Being slightly wall-eyed makes Kirin a master of the sidelong look; she misses nothing. Her Yoshiko is a strangely joyous portrait of an old woman. Out for a walk, she talks about being followed by a butterfly, and wondering if it was perhaps her reincarnated ex-husband. If so, she said, it could go away now, she was fine on her own. The dead father's foibles aren't spelled out; we only see a picture of him, stodgy in a suit, on the small bookshelf-sized altar dedicated to him. What he thought of his son we can guess. It's clear that Ryota's prize-winning novel had a bit of familial dirty laundry in it.
Yoshiko is hardly immobilized by grief, though she's keen on a little manipulation of her family. "Don't leave grandma alone," she whines theatrically, getting Ryoka, his ex-wife and their kid, Shingo (Taiyo Yoshizawa), to linger during the night of the rainstorm. She may be a denizen of a dingy low-income apartment, a purchaser of expired groceries, and a wearer of ratty, patched sweaters, but she's shrewd. When Ryota says "the great talents bloom later," Yoshiko replies, "You took too long to bloom." She gets paid back in kind by manipulation: Ryota says, "I'm sorry I'm such a useless son," and then we see him raising his eyes for a quick glance, to see how that apologetic routine went over with his mom. She doesn't really buy it.
Kore-eda pushes for a bit of a happy ending when all we really needed was some hope. Mostly, the humor reminds one of the Thanksgiving classic Home for the Holidays. Even if the comedy here is drier and less confrontational, this unpretentious family knows how to get in one another's grills. The surroundings are homely, the hustles are funny, and the sage and salty old lady is an elder to be cherished.
After the Storm
Unrated; 1 hr., 57 min
Opens Friday at Camera 3