Movies
'Alive Inside'
'Alive Inside' documentary explores the possible restorative powers of music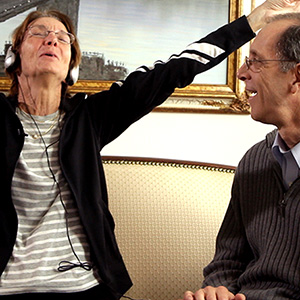 Michael Rossato-Bennett's documentary Alive Inside is inspirational, but part of what it inspires is suspiciousness—and one should be suspicious of any documentary marketing a solution, particularly a documentary that is both emotionally manipulative and claims an easy treatment for a disease.
Some 5 million Americans suffer from senile dementia; that number is expected to double in a few short years. Rossato-Bennett follows Dan Cohen, a former tech worker who is now urging the use of iPods in nursing homes through his Music and Memory non-profit. (Maybe what started my suspiciousness was the frequent namechecking of iPods, as opposed to any other cheaper MP3 players.)  What we see in Alive Inside is something quite wrenching. Elders, without memory, barely responsive to the outside world, come alive when they hear the music of their day through headphones.  "Henry," who was slumped over and uncommunicative, listens to some gospel and pops up to sing. "Jon" sits with all his memory gone; he was a baseball player, a Navy vet stationed at Alamogordo, later a dancer on stage; one exposure to the  Andrews Sisters and he's immediately belting out the lyrics of "Some Enchanted Evening" and wiggling his feet into dance steps.
Dr. Oliver Sacks, interviewed here, quotes Kant: "music is the quickening art"—that is, it brings us to life. Sacks maintains that music's unique power is due to the fact that it affects us on so many brain levels. The sense of pleasure in music is one of the first senses to come and the last to leave.  A side track into interviews with musicians Samite Mulondo and Bobby McFerrin attests to the importance of music's healing power.  And as a side issue, Alive Inside deals with the terrible sadness of the nursing home. As this film suggests, our society's emphasis on independence means that the dependent never get their due respect.
Still, you wonder what the enthusiasm of this pitch is concealing. Could music set off anger?  (If I go senile, and they pump some ABBA in my ears—"it's his generation's music"—there is going to be trouble.) There's a better movie out of this material somewhere. The director raised the funds on Kickstarter, and touching as it is, the feature-length Alive Inside is still built like a Kickstarter pitch.
Not rated; 78 min.