Movies
American Hustle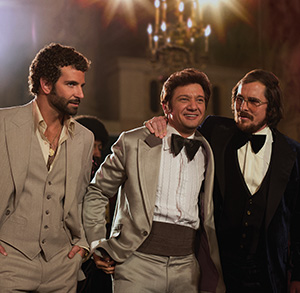 Return withus to the Abscam affair: In 1978, several politicians were hornswoggled into believing that a swarthy FBI agent with a napkin on his head was in reality a rich sheikh with a suitcase full of cash, looking to buy U.S. citizenship.
David O. Russell's fiction on the subject, American Hustle, gives us an unusual point of entrance. There's a successful con-artist named Irving: a charmingly light-comic Christian Bale with a tire around his gut, and a wad of combed-over hair the size of a beret. He falls for a former stripper (Amy Adams) who dons a bogus English accent and calls herself "Lady Edith." The two are busted in the act of fleecing their clientele by a horny, burbling FBI agent (Bradley Cooper), who forces them to find and entrap politicians for the Bureau. The downside: One entrapee is a South Jersey civic paragon (Jeremy Renner, with a windblown JFK hairdo evolving into televangelist pompadour). The wild card is Irving's sun-lamp-toasted, stupid-like-a-fox wife: Jennifer Lawrence, surprisingly able in the part Marisa Tomei would have got a few years back.
American Hustle is fast and loose, and it could be faster and looser. Some of the critical love has to be due to Adams' vertigo-inducing neckline. Examine the sublime face instead, and note how well Adams mimes that zonked yet wanton look they used to strive for in Oui magazine pictorials, complete with electrocution-victim perm. Nostalgia rules. Our temporarily unwarlike nation was in a happy daze over synthetics: the sound of Martian synthesizers at the discos, the allure of polyester. This film's true (or true-enough) lovers embrace in a vortex of plastic-wrapped clothes at a dry-cleaners, whirling around them on a conveyer belt like the torrent of a waterfall. Bale looks like the aged beefy Elvis, reunited with a tired but still glorious Ann-Margret in the form of Adams. But through voice-over, withheld info, shaggy dog stories and flywheel-spinning actor's exercises, Russell keeps yanking the plot back like a balloon salesman grabbing fleeing merchandise. "Who's the master, the painter or the forger?" Russell has Irving ask. Meanwhile, the director traces the lines of Scorsese and Boogie Nights. People see a masterpiece because they see what they want to see, says this (Clifford?) Irving. Checking the reception of this warm but overstretched movie, who can argue that?
R; 138 min.