Movies
'The Avengers: The Age of Ultron'
The superhumans must save the human race from an evil AI in 'Avengers: Age of Ultron.'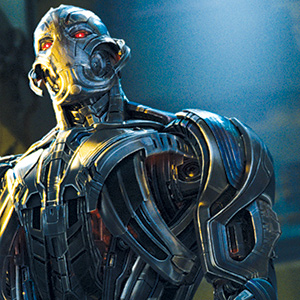 There's a difference between moral oversimplification and the acknowledgement of contradictions that cannot be reconciled. The Avengers: The Age of Ultron ultimately acknowledges that it's all about the contradictions. A consistently fascinating blockbuster, it picks up the sometimes-frustrating conscientiousness from the Marvel comics. Those funnybooks were always caught in the unresolvable problem of violence being used to solve problems that violence never solves. Here, Tony Stark quotes Neville Chamberlain's loaded pronouncement of "Peace in our time" while his preparations for the next war brings that war to pass.
Stark (Robert Downey Jr.) is starting a one man arms' race, unbeknownst to his colorful partners. His new system is called Ultron (voiced by an oddly Dustin Hoffman-ish James Spader), an artificial intelligence that will be "a suit of armor for the world" against extra-terrestrial invasion. The A.I. wakes up and goes wrong—"Ultron can't tell the difference between protecting the world and destroying it. I wonder where he got that from?"
Director and writer Joss Whedon again works out a way to make world-destroying forces colloquial, keeping the humanity in superhumans. Because of that humanism—it's a pessimistic film, certain that the sun is setting on the human race—Ultron works as mammoth entertainment. After three films, the Hulk is at last a frightening, city-clearing terror. The cities are different, too—Johannesburg, Seoul and a fictional, Belgrade-like Balkan city. Stark's weaponry helped shell the place in the 1990s Balkans war, and now the blowback is waiting for him. The push and pull between Stark's glibness and Captain America's soul keeps the interest—who would have thought, seeing those lousy Fantastic Four movies, that Chris Evans could hold his own in a scene with Downey? Also touching is Mark Ruffalo's Bruce Banner, shivering in a blanket after a green and purple outburst, and Chris Hemsworth's old movie-style self-confidence as Thor. The cast is joined by a synthetic demi-god called The Vision (Paul Bettany) and a hypnotic manipulator of minds (Elizabeth Olsen).
Junket-scene reports claim that Scarlett Johannson's Black Widow was belittled as eye-candy, even if she is the only one who knows how to gentle that incredible Hulk. Instead of talking about her costume, they might have asked why she's seen serving drinks at a party while the menfolk are off arm-wrestling with Mjolnir. Tony Stark couldn't afford caterers? (And did I actually hear this script call a principal female character a "monster" because she's unable to bear children?)
The Avengers: The Age of Ultron
PG-13; 142 Min.