Movies
Review: 'Battle of the Sexes'
Steve Carell and Emma Stone have fun in a biopic about sexism and tennis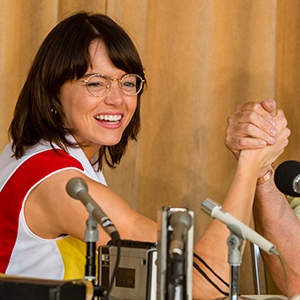 It's a director's duty to make sure we know that the past was a place where people really feared to step out of line. Director Jonathan Dayton and Valerie Faris fulfilled that duty. The quite enjoyable Battle of the Sexes suggests that a sensational stunt tennis match in 1973 was a great disturbance in the force, as if millions of men suddenly cried out in terror of losing their privilege and were silenced.
It sure didn't go the way Garson Kanin would have scripted it—even kids who got their news from the Weekly Reader sensed the creepiness of the bout between ace Billie Jean King (Emma Stone) and 55 year old has-been Bobby Riggs (Steve Carell). This Riggs is the kind of schlub who'd inform his Gamblers Anonymous group that "life is a gamble," or who'd show up grinning and sweaty in a silver sauna suit, looking like a foil-wrapped baked potato on legs. Sporting a Jerry Lewis bridge of teeth, Carell—previously directed by Dayton and Faris in Little Miss Sunshine—is once again a human bathysphere sinking into the ocean of embarrassment, registering record-breaking depths with every dive.
Thanks to the hypnosis of Stone's amethyst gaze, slightly magnified behind her glasses, you can convince yourself that this match was important in itself, rather than a way for King to explain the potential of underrated and disrespected women's tennis to a bunch of harrumphing men in bad sports coats.
Of the good cast, Elisabeth Shue is a standout as Riggs' wealthy, despairing wife, lock-jawed with good breeding. The heart of the film is a clearly fictionalized romance, seen through diffused pre-flashed look of '70s cinema, or the brownish light of smoggy L.A. Not yet openly lesbian, this King is a married woman who didn't know she had these desires; they're awakened by the sweet hairdresser Marilyn (Andrea Riseborough), moving in on her with lavender essential oil and a cloud of ambient music. The lovemaking is barely visible, perhaps a legitimate lighting choice to reflect King's closeted terror. Did we need Alan Cummings, as a costume designer, Nostradamisizing that someday people will be able to love who they want? (He might as well have forecast palimony suits while he was at it—the movie ends before King was outed in a lawsuit by Marilyn Barnett.) What starts bewitchingly ends up in the cornfield of last minute arrivals and mutual understandings.
Battle of the Sexes
PG-13. 121 Mins.
Valleywide
7/10 stars