Movies
'Begin Again'
Rom-com Begin Again hits the right notes without too much production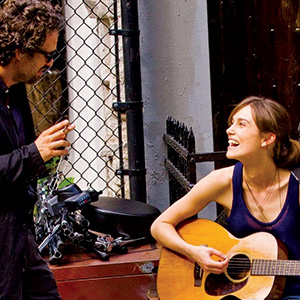 John Carney's follow up to his 2006 hit Once, played at Toronto 2013 under the fatal title Can A Song Save Your Life? It has been retitled Begin Again. It is slight and caramel-hearted, but it made me a new fan of items I thought I was over: New York, popular music and Keira Knightley. And unlike Once, Begin Again isn't in love with hopeless pathos. Nothing here is as fulsome as that street-singer's chipped-up guitar in Once—Glen Hansard was so sincere that his guitar was disintegrating.
Begin Again starts in a pair of loops, with the two main characters brought together on pretty much the worst nights of their lives. The wooly old A & R man Dan (Mark Ruffalo) is at the end of a day spent drinking away his career, and being ejected by the record label he co-founded with his partner (the droll, cool Mos Def).
Dan has an afternoon date with his contemptuous adolescent daughter Violet. She's arguably the most cliched part of the film. Yet Hailee Steinfeld of True Grit (tall, sturdy and 17 now) gives Violet such filial anger that it's already clear the actress is not going to reprise Kim Darby's career trajectory.
Dropping Violet off, Dan has a quick confrontation with ex-wife (Catherine Keener); then some more whiskey and a stagger into a nightclub. There, Greta (Knightley) has been pressured into taking the stage for one number with her guitar. Dan fuzzes into a drunken fantasy, enacted with the fine old Busby Berkeley idea of the instruments coming to life on their own and accompanying Greta. Producer and singer have a quick, wary meeting, and Greta decides to take him as her manager.
Greta herself is a visiting Londoner dropped fast and from a great height; she was the consort and collaborator of Dave, a world-famous rocker, played by Adam Levine of Maroon 5. She's sleeping on a couch, she has no ambition, and she's so out of the world of performing that she doesn't even seem to think her looks would help sell her music. Dan and Greta work from the ground up; they decide to use a portable studio and New York ambient locations to make their own demo.
You're lucky in 2014 to see a film with one determined woman in it, and Begin Again has three, counting Keener, Steinfeld and Knightley. As always, Knightley is brittle and posh. Maybe she's experiencing global warming, though. Carney captures an aspect of appealing crumbliness in Knightley as she hits 30. Stardom in a musical can depend on something as small as whether a person looks good with their mouth open, singing. Knightley does. The too-perfect planes of her face shine in the brightness of a spotlight.
Maybe the public that hates musicals hates them because of the gap between what we're hearing and what we're supposed to be hearing. But like Jersey Boys, Begin Again doesn't go inflationary about how wowed we're supposed to be. During the scrappy recording sessions, shot in well-chosen Brooklyn and Manhattan locations, rooftops and alleys, what we hear is A sound, not THE sound.
Knightley acquits herself on sometimes in-one-ear-and-out-the-other tunes. Levine also keeps turning up, in increasingly ludicrous facial hair. He has a strong tenor recalling Todd Rundgren, but unlike Rundgren, Levine's material is almost surgically antiseptic.
Again, this is often deliberate. Begin Again, with its roots-seeking new title, is a critique of overproduction. It's a measure of Dave's characterlessness that he shellacks his music; he's so self-serious he titled his album "On the Road." Director Carney is enough of a musician to know the difference between audio oatmeal—the kind of music that 95 out of 100 people wouldn't have any strong opinion about—and something distinctive.
Knightley and Begin Again had me at the late-night scene where she drunk dials Dave with a song she's written titled "Like a Fool." There is drama in the chords and in the situation, and Knightley sells the tune beautifully. It's the first time that I thought anything could beat "Everything Is Awesome" at the Oscars next year.
104 MIN., R