Movies
Review: 'Better Call Saul'
'Breaking Bad' spinoff keeps the plot interesting on season 3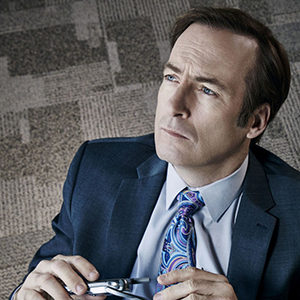 In the background, Nancy Sinatra chirps "Sugartown." Seen in black and white, disguised by a fake-looking brown mustache, is Jimmy McGill (Bob Odenkirk), once known as Albuquerque's most dubious lawyer. He's the oldest guy working at a Cinnabon in an Omaha mall. Some sugartown! In flashback, we see the rise of Jimmy, and the chicanery that undid him.
A main plotline in Better Call Saul's source show, Breaking Bad, had Walter White (Bryan Cranston) almost outwitting his police detective brother in law, Hank (Dean Norris). Saul isn't brother vs. brother-in-law, but brother vs. brother. Chuck (Michael McKean), Jimmy's older sibling, is a respectable lawyer, immobilized in his house with a case of electromagnetic sensitivity. The game continues between this snobbish attorney, and the charming, untrustworthy Jimmy.
The sharp point of this tragi-comedy is Jimmy's partnership with his fellow lawyer Kim Wexler (Rhea Seehorn), a smart lady becoming worn down by work and disappointment. Last season stopped for a long closeup on Kim, on the threshold of happy tears, juxtaposed by Jimmy's face on an elevated TV set, as he starred in one of his hilariously cheap-ass commercials, standing in front of a flapping American flag. Kim's admiration for Jimmy's audacity is maybe the saddest part of the show.
The cast is doing the best and toughest work of their lives. It's particularly true of Jonathan Banks as former Philly cop Mike Ehrmantraut, currently tracking someone who is trying to track him. Banks' fascinating weariness and gravity never gets tiresome, and the chance of danger is always present. Honorably, BB and BCS insist that the effects of a beating or a gunshot wound last a lot longer than TV watching would lead you to believe.
The New Mexico terroir is remarkable; the show is staffed with novice directors working like crazy to get a fresh angle on cityscapes and deserts. And then there's the narrative itself. It's worthy of Honore de Balzac in its analysis of how big illegal money is made—as he wrote, great fortunes are the result of great crimes, and men make their way through the world either like cannonballs, or like contagions in the wind. So many of the best qualities the movies used to have seem to have migrated to Better Call Saul.
Better Call Saul Season 3
AMC & Streaming