Movies
Bettie Page Reveals All
Legendary pinup Bettie Page was naked but never nude,
as seen in the new doc Bettie Page Reveals All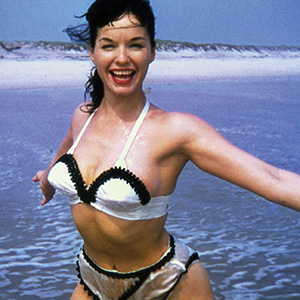 In the documentary Marlene, Dietrich herself phoned in some last interviews to director/actor Maximilian Schell, while refusing to be seen on camera because "I've been photographed enough."
Mark Mori's labor of love documentary Bettie Page Reveals All also doesn't show us the iconic model as she was in her last years, but we hear Page narrate her life story. In hundreds of pictures Page looks at us levelly under her straight, lustrous black bangs. "I'm an illusion," Page says over the phone, age having hoarsened what must have been a honeyed Southern drawl.
It's been said that a woman first reacts to seeing a picture of a naked lady by asking, "I wonder if she's a good person." Who'd ask that question about Bettie Page? Sarah Poulson, playing the photographer Bunny Yeager in The Notorious Bettie Page, says the model was "naked but never nude." Even if Page hated that movie ("Lies, lies, L-I-E-S!" she shouted during the screening), the naked/nude distinction exists in the hundreds of photos we see here. Neither clinical nor vulnerable, Page was a multifaceted subject for the camera.
The film begins with Page's funeral in the same Westwood cemetery where Marilyn Monroe is interred, with Robert "Crystal Cathedral" Schuller officiating. Bettie Mae Page was raised in a desperately poor, incest-wracked Nashville household in the 1920s. She was a smart student, the Salutatorian at her high school. Trained as a secretary, she had a too-fast WWII marriage. After a failed screen test in Hollywood, she took up a modeling career. Following some work with amateur camera clubs, Page went to Florida and did sessions with Yeager, who talks of posing Bettie as a jungle girl with the help of rented animals from the Africa USA theme park.
"I love myself when I am laughing and then again when I am looking mean and impressive," author Zora Neale Hurston commented on a sheaf of photos taken of her. The phrase describes Page's duality. The beachy Florida photos contrast with the nocturnal work Page did in New York. She hooked up with photographer Irving Klaw and his sister Paula. To the camera, Paula Klaw describes the mostly hilarious sessions of rigging up this cornflower-blue-eyed fantasy girl for now-quaint fetish pictures. Page is clad in foundation garments that look as tough as a suit of armor. "For some reason, men like to see girls spankin' each other," Page chuckles.
Good old American amnesia: we think of the NSA's spying on our fantasy habits as a new thing. In the 1950s, postal inspectors could hunt down porn by opening the mails. The Klaws had to be careful about what they photographed. Maybe this is the key to why Bettie has held her space so well over the years. She sewed her own costumes, and she was the star of her show. Men on scene, or nudity in the bondage photos, would have challenged the power of Page—the power that's in her presence.
Interviews here include numerous artists and designers who have been inspired by Page, particularly the illustrator Dave Stevens. Beyonce recently did a video for her song "Why Don't You Love Me?" posing as Bettie. I may have missed it, but I didn't see a clip of a serious debtor to Page, Katy Perry.
The documentary has to pad its visuals with selected cartoon images of Page, and that gets to be slightly cheapening. But the story is so outre—and so rich with images of Page—that it doesn't matter. Fan Steve Brewster sent Page the first fan letter she'd gotten in decades, a letter praising her "sweet spirit." This doesn't seem fulsome when you see Page. This spirit suffered terribly from schizophrenia; she was institutionalized after a breakdown, and she spent a long stretch in the state mental hospital. The film ends upbeat: before her death, Page recovered both sanity and royalties. When she thanks her public so nicely for remembering her and loving her, it's hard not to take it all at face value.
101 MIN.; R