Movies
'Birdman'
A washed-up actor tries to overcome the superhero character
that made him famous in Birdman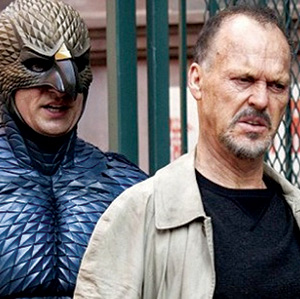 Doffing his customary crown of thorns to don the top hat of a Broadway first-nighter, Alejandro Gonzalez Inarritu (Babel, Biutiful, 21 Grams) directs Birdman—given the Sadean subtitle Or the Unexpected Virtue of Ignorance. It's his most impressive film. Birdman is a long, seemingly one-take slither in and around a legitimate Broadway theater on W. 44th Street; the comedy is of the crack-up of a Hollywood actor turned theatrical hyphenate.
Back in the Bill Clinton days, Riggan Thomson (Michael Keaton) starred in a series of Birdman movies—blockbusters about a dark Hawkman with telekinetic powers. It made Thomson famous. What most people don't know, or care, is that Thomson's actual greatest honor was receiving a note of praise for his acting in his student days, scrawled on a cocktail napkin by the Bay Area's own Raymond Carver.
Robert Altman's Short Cuts was based on Carver's short stories—"He left a piece of his liver in every story!" claims Birdman's antagonist Mike (Edward Norton). And Short Cuts was one of the first tag-teaming dramas whose style enveloped Innaritu back in the 1990s. By contrast, Birdman is short in meanwhiles. It's meant to flow an unbroken spool of some 48 hours. We see where the camera rested: during time lapse night into dawn, the duck into dark corridors so that the scene to restart. What we can't see is Birdman's seams.
The film follows the turbulent Riggan during the previews of his play What We Talk About When We Talk About Love. The camera is so close on him that it's like a flea in what's left of the actor's hair. Innaritu's four scriptwriters introduce magical-realist business—the gravelly I-am-the-night voice of Birdman rasps in Riggan's mind, deriding sissy foo-foo acting. According to this super-doppelganger, Riggan could be back out in Hollywood flapping around, blowing up things and amazing the world. Riggan doubts that—he's in physical decline ("I look like a turkey with leukemia," he says, examining his body in the mirror). Yet Riggan still has his super powers: the first shot is the actor is levitating in his underwear in a lotus position in front of a statue of the Buddha.
Riggan's problems as director/writer/actor of his first play are numerous. His angry daughter (Emma Stone) is fresh out of rehab. Riggan's miffed current lover (Andrea Riseborough) and an ex wife (Amy Ryan) are both hanging around, and a haywire-nerved co-star (Naomi Watts, brilliantly shaky) is having her own troubles. Her co-star, Mike (Norton), is a splendid caricature of the monster actor who sees the world, as it were, in negative—the real life is on the stage, by contrast the messy, tricky stagecraft is what he uses handle everybody. Mike is both genius and weenie, requiring a tanning bed backstage. (Watching Norton, it came to mind that Innaritu directed Sean Penn once.)
There is, sadly, a bit of rant in Birdman—Riggan turns sock-puppet in the hands of a furious Innaritu, dressing down a critic with the witchy name Tabitha (Lindsay Duncan) who openly boasts that she has life or death powers over Riggan's show. If Innaritu really believes the phrase "Who wants to grow up to be a critic?" is the perfect squelch, he should ask a critic how many times people ask a critic if they can have his job.
There may be some justice in describing the superhero-film glut as "cultural genocide". But Tim Burton's Batman movies had soul (and the critics loved them). By contrast, Innaritu's trilogy of castigatory worst-case scenario international godawfulness rivaled the ASPCA injured-dog commercials for pure agony.
In this bewilderingly funny film, Innaritu is talking about what he knows about: the problem of handling a menagerie of people with bruised egos and insatiable demands. Birdman has great praise of the craft of acting, even if it insults actors in as lucky ignoramuses in its subtitle. We can almost see how the childish behavior compliments an exacting science here. Few movies have had so much dire fun with the process of getting the show to go on. Birdman is necessary viewing for all theatrical actors, from toasts of Broadway to crusty little-theater toilers.
Birdman
119 MIN., R