Movies
Review: 'Black Panther'
A strong cast and complex villains make for a compelling superhero flick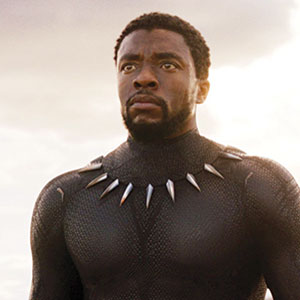 There will be spoilsports on both sides—one anticipates the nasty racists, but there may also be intellectuals in a huff: "The white audience certainly gets off watching all this black-on-black violence!" But Black Panther is one remarkably rousing comic book adventure.
We have previously met King T'Challa (the startlingly handsome Chadwick Boseman), whose father was assassinated by a vengeful terrorist in Captain America: Civil Wars. Costumed here in a super-suit made of the amazing material vibranium—the very substance of which Captain America's shield is constructed—T'Challa is not just king, but the hereditary guardian of the African Shangri-La known as Wakanda, a fantastically advanced civilization disguised as one more poor and remote landlocked African nation. He was sucked into the civil war between Earth's mightiest heroes, the Avengers. But this sequel by Oakland-bred Ryan Coogler leaves the matter there and tells of T'Challa's war to retain his crown; he's threatened first by Afrikaner villain Klaue (Andy Serkis, hugely enjoying himself) as well as Erik (Michael B. Jordan), an African-American war vet with a strong personal connection to the royal family.
Splitting the villainy is smart—you have one that's a giggling monster, chortlingly evil—Sirkis gives a great nasty reason for shooting a fleeing man in the back. Erik, aka'd as the mercenary Killmonger, has well-written reasons for his grudge. He provokes the kind of conflict that goes back and forth in an anti-colonialist's head: he's an armed revolutionary confronting a liberal king. When Marvel stuff is well done, it may not be Shakespeare, but it's built with Shakespeare's best plotting ideas. The same kind of doubling up is elsewhere in the film: T'Challa's beguiling bratty sister (a delightful Letitia Wright) is also the movie's brilliant weapons and cybernetics expert. When T'Challa goes to Korea to recapture some stolen vibranium, he enters a casino dressed in a tuxedo, like 007. Coogler decided this dashing man can be king, hero, and spy at once, and the car chase afterwards is suitably thrilling, through city canyons alive with neon. The look of the film is dazzling, a pan-African symphony of masks, gowns, scarification and headdresses.
If there's such a thing as a healing fantasy, this may be it: what might have Africa been, if so much hadn't been stolen from her and her people—something as remarkable as this?
Black Panther
PG-13, 134 Min.
Valleywide