Movies
'Broad City': Mad Women on
the Loose in Alternatown
Broad City is delivering something that the movies aren't.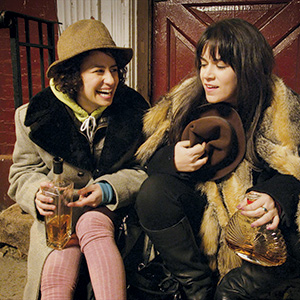 Whether you love it or are disgusted by it, Broad City (on Comedy Central and Hulu Plus) is delivering something that the movies aren't. Renewed for a third season in January, it walks tall on the low road. It's often grotty in a way that holds together a broad audience in a high/low humor fork.
An example: an opera aria is background music when dear Abbi (co- writer/co-star Abbi Jacobson) exudes a used condom she didn't know she was still carrying inside her. Not a show for the pristine—though like in John Waters, there's a sense of a classical style that no grossness can overcome. Broad City isn't far from the Anita Loos of Gentlemen Prefer Blondes or Rivette's 1974 Celine and Julie Go Boating. It's not as arcane as the latter, but it does revel in the subject of two young female idlers enjoying their second childhoods.
They're a pair in great harmony. The sight of Abbi and her best friend Ilana (co-writer Ilana Glazer) sashaying down the sidewalk, alarmingly dressed, a little high and in search of trouble can get you laughing right away. Abbi, from a nice Philadelphia suburb, deludes herself about being a graphic artist. She likes to draw faux-naive, apparently traced on a light table, pictures of fast food. (One sale was to a sandwich shop which, inevitably, paid her in sandwiches.) She also works as a scrubber at a pretentious new age gym, where the management covers their nastiness with plenty of namastes.
In her late twenties, Abbi is plump and still a little slow on the uptake. It's good that she has someone to watch over her. George Orwell suggested that the trad comedy team of one plump and one skinny comedian succeeded because it symbolizes the endless quarrel of body and soul—an original example was Sancho Panza and Don Quixote. Abbi and Ileana are a more like Flesh and the Devil team—Abbi is tempted into trouble by her diabolical wired-up friend. A brash social warrior—"in the future, everyone will be caramel and queer"—Ilana never thinks the rebellion through. Once she lectured her perpetual hookup buddy, Lincoln (the expert deadpan comedian Hannibal Burress), on what's wrong with western medicine… and he's a dentist.
Glazer has a wonderfully impassioned gaze, but she doesn't do all with her eyes, like Aubrey Plaza. Glazer's yoga-limbered body is essential to her physical humor—she's a few loose joints away from being a contortionist. Flaunting it all as a model for an art class, she wore nothing but a bikini of blurring pixels. The teacher, with labored patience, told her class "I hope your pencils can soften this model's crudeness."
Once, in a delirium from shellfish allergy, Ilana croaked to Abbi "you were the love of my life." Ilana usually makes a pass at her pal every three or four episodes. Broad City may end up like X-Files, with fans going crazy wondering when the two leads are going to kiss. Ilana may have hope. The Fellinish episode "Hashtag #FOMO" revealed that when Abbi drinks too much, a gender-bent nouveau cabaret alter-ego called "Val" comes out.
This kind of mutual female attraction draws the male gaze—and Broad City acknowledged that power by a switcheroo gag. At a party, Ilana watched two college boys kissing in a wading pool—a substitute for the usual two college girls. She shrieked, "I love it when straight dudes make out!" But the attraction in Broad City is not just a tease. The shared wavelength between Ilana and Abbi is the same kind of energy that made some people fantasize that Jerry Lewis and Dean Martin—another Flesh and the Devil team—had something going on between them.
The word "City" in the title is earned. The coral reefs of the world are "bleaching," turning white and dying. Brooklyn has the same problem. Broad City suggests there may be some life left, even as it satirizes hipster dissipation. It mocks that youthful conviction that when you're young, you own the city and it owes you a living. It makes comedy out of what's current, as well as the stuff that never changes in alternatown.