Movies
'Brooklyn'
A strong script, soundtrack and cinematography anchor 'Brooklyn'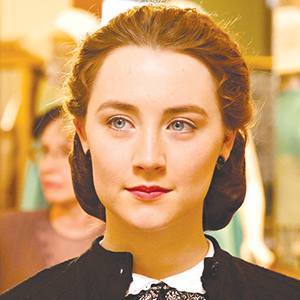 One reason to herald Brooklyn as one of the best films of 2015 is that it makes such an eloquent argument in favor of the classic movie studio style, while not being a slavish pastiche of the way movies were once made.
In Atonement (2007), Saoirse Ronan was Briony, the child with the piercing eyes, born to stealthily observe and to grow up to be a writer. Ronan is 21 now, in bloom and key to the beauty of director John Crowley's adaptation of Colm Toibin's novel. Her Eilis is a determined, intelligent Irish girl of 1951 who immigrates to New York with the help of a priest named Father Flood (Jim Broadbent).
Fresh off the boat, she works at a fancy department store while learning bookkeeping at night. Eventually, she meets Italian-American boy, Tony Fiorello (Emory Cohen), with whom she falls in love. After a year's acclimation in Brooklyn, Eilis has to return to County Wexford because of a family crisis. Back home, she's a new and confident woman. Opportunities she never had before open up to her. These opportunities include the attention of a propertied young man, James (Domhnall Gleeson).
Crowley's use of unbraced camera in scenes of emotional conflict—the slight shake to give immediacy—refreshes the classic-era movie studio compositions and gives them reality. The harmonious palette of creamy, balanced colors keep you rapt. As per Winton Hoch's photography in The Quiet Man (the movie is name-checked) Crowley seems to have felt that a film about Ireland and the Irish should have the color green in abundance, and not just to compliment the colors of a lovely, red-headed, pale-skinned star. Even in smaller scenes—where a crowd is at the dock in Cobh, too anguished to wave farewell to a departing ship—the overcoats are in shades of emerald, aqua and forest green.
Nick Hornby's script is a delight—it suggests the abrasiveness and hustle of this new land, without dipping into melodrama. While the characters all bring this greenhorn girl along, they all have that breadth that you get in the best kind of movie. Each could be the star of their own film. Broadbent's warmth and heartiness is infectious; so is Julie Walters' comic asperity as Mrs. Kehoe, the landlady trying to keep her mischievous female lodgers in line. Tony's little brother Frankie (James DiGiacomo) is as lively and bratty as Margaret O'Brien in Meet Me In St. Louis. As for Cohen, his performance as Tony could be star-making. Cohen has the ingratiating style James Franco is aiming for, without a lot of the self-infatuation.
The music is as well thought out as the color scheme—a band playing a church dance in Ireland prepares us for the Atlantic crossing by performing the traditional song that evolved into "Streets of Laredo" in the New World. In a wrenching scene, Eilis volunteers to serve Christmas dinner to poor old men—laborers who came to America to build the tunnels and the bridges, now too destitute to go back to Ireland. Flood is a merciful priest; he gives them Guinness to go with their turkey, and someone to sing them back home, as Merle Haggard once put it.
The only disappointment in Brooklyn is a bit of under-producing—the script seems to promise us a trip to Ebbets Field that never happens. But Brooklyn isn't about nostalgia; it's a lived-in past, and you can observe things we're better off without, such as a week in steerage of an ocean liner, with rotten food and shared bathrooms. Thank God for the aircraft keeping immigrants all but dropping off the face of the world when they leave their homes and families. Brooklyn honors the borough's past, but there's a lesson for the present: a gentle reminder that many of us are descended from the kind of immigrants who are feared and denounced by politicians in America today. Our good luck is the fruit of their sorrow and homesickness.
Brooklyn
PG-13; 111 Mins.
Camera 7, Campbell