Movies
'Cavalry'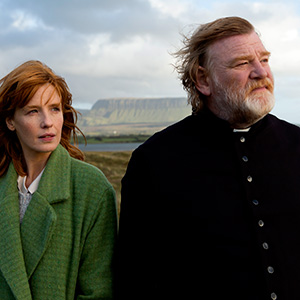 Reviewing the first Narnia movie, critic Anthony Lane mulled over the mixed-metaphor of making Aslan the Lion a leonine Jesus. Conditioned like every ex-Catholic to tear up at The Passion, I still snickered when the time came. "Let him be shaved!" ordered the ice queen Tilda Swinton. Elton John's hit "Someone Shaved My Lion Last Night" came to mind, but Lane put the problem more coherently. Is it better to have a lion representing the Divine, persecuted by humanity? Would such a Christian critter be more like the abused, patient Balthazar the donkey in the 1966 Robert Bresson classic?
The Irish import Calvary restages Jesus's last climb as a week on the Irish coast, with a baffled accidental martyr; he's played by the great Brendan Gleeson, much like poor Balthazar in gentleness, animal strength, and, of course, shagginess.
Gleeson's Father James is a priest of County Sligo; as told here, the town he serves has pretty much given up on Catholicism as a bad joke. James is informed by a parishioner (whose face he cannot see in the confessional booth) that he is to be shot next Sunday. James is an innocent who will die for the sins of the Church—punishment for all the pedophiliac rapes the bishops covered up. The Father has a week to figure out who his assassin might be.
Suspicions arise that director/writer John Michael McDonagh was doing what novelist Patrick McGinley does—that is, to have a bleakly comedic study of Irish rural awfulness held together by a less-than-airtight murder mystery. Still, the suspects are anything but usual. They include Chris O'Dowd as a cuckold who runs a grisly butcher shop, and the ineffable Dylan Moran as a millionaire swine, boozing away the shame of having driven the Irish economy straight into the bog. The final dirge by the Paraguayan folk band Los Chiriguanos fails to make this too sad to watch. Title aside, Calvary is tragic-comic. Like the old story from which it takes its title, it turns mysterious and brave.
R; 100 min.