Movies
Review: 'Can You Ever Forgive Me?'
Melissa McCarthy excells as a soggy, washed-up writter in new biopic of author Lee Israel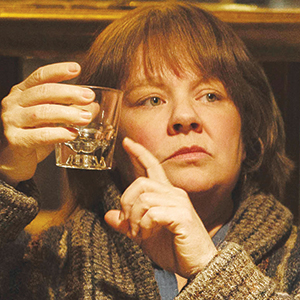 God bless all the actors who aren't there because of their looks. The literally catty tragicomedy Can You Ever Forgive Me? commences nicely with Melissa McCarthy playing Lee Israel, surly, shabby and frumpy at a publisher's office—meeting a deadline at 3 a.m. with the help of a big glass of something on the rocks. She's fired for drinking on the job, even at that hour. As she leaves, a younger employee mutters "If I ever get like that, kill me."
Lee snaps back: "If you ask me nicely, I'll kill you now."
This true life tale of a drinker with a writing problem is set in 1991. Print hasn't keeled over and died yet, but Lee, who'd previously published a number of celebrity bios, is having trouble landing an advance.
When vet bills for her ancient cat press her, Lee goes to sell a prized possession. It's a personal note from Katherine Hepburn from the days when the two had collaborated on an autobiography. The money is good enough that Lee falls into a unique field of crime—forging celebrity letters to sell to the local bookstores. She recruits her seedy drinking buddy, Jack (Richard E. Grant), but the scam turns out to have consequences. It also blights Lee's potential friendship (friendship, or more) with pretty bookstore owner Anna (Dolly Wells), who has writing ambitions of her own.
There's been studio-generated Oscar buzz for the untrustworthy barfly Grant plays, the kind of man who introduces himself as "Jack Hock: big cock"—dodgy and gay and British and drunk, a mountebank with fingerless Fagin gloves. Why not honor him now? He's a world-leading actor of smooth lowlives—he's played wastrels ever since Withnail and I (1987) and poor Gordon Comstock, the ill-starred writer from Keep the Aspidistra Flying, a.k.a. A Merry War. Oddly, the mood of Can You Ever Forgive Me is closer to Orwell's book about the writing life than the legitimate adaptation.
The elegant soundtrack sports jazz crooner Blossom Dearie, the ill-fated country rocker Spade Cooley and a bit of Justin Bond covering Lou Reed's "Goodnight Ladies" in a deserted cabaret. Ornery and salty as the film is, it has a cool counterpoint of loneliness to it. And it shows how lost even the recent past is—it has the sense of New York when it was New York, when it was gritty and bad, and seemingly every business sign was missing a letter or a light.
Can You Ever Forgive Me?
R; 107 Mins.
The Aquarius, Palo Alto