Movies
Captain Phillips
Tom Hanks discusses his portrayal of a real-life captain
who faced hijacking in Captain Phillips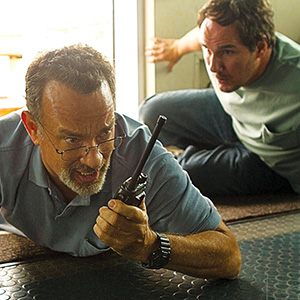 No news: Tom Hanks is the walking image of America as it wants to see itself, brave, boyish, modest, loyal, sometimes bewildered. Here is the news: in Captain Phillips, just like Jimmy Stewart in his later roles, Hanks gets seriously interesting as an actor.
Hanks arrived for our interview dressed head to toe in Johnny Cash black. Black sports coat, black shirt, a pencil-thin leather bracelet studded with small blue gems on one wrist. Captain Phillips is director Paul Greengrass' account of the real-life hijacking of the cargo ship Maersk Alabama in 2009. For several days, Phillips (Hanks) and his captors bobbed off the coast of Somalia. No one has ever described kidnapping as the thinking-man's crime. The desperate kidnappers are led by Muse (pronounced Musay), played by impressive newcomer Barkhad Abdi. The tragedy of Muse's situation balances Phillips' ordeal with a sense of grief and waste. Vulgar-auteur fans, beware: there's less Steven Seagal than Joseph Conrad here.
Odd that there haven't been any movies about the life aboard these cargo ships.
"The pressures are relentless," Hanks said. "Richard Phillips told me, 'I've got to deal with three unions as a captain. There are constant emails and texts from the shipping company: Why are you burning so much fuel? Why aren't you there yet? And when you get to, say, the port of Mombasa, there's people who have to be bribed with everything from ballpoint pens to $1500 in cash.'"
Captain Phillips was filmed aboard a sister ship of the Maersk Alabama as it cruised off the coast of Malta. It was an unusually fast shoot. "I got hip to it quick," Hanks said. "Most movies are done shot by shot, master shots and coverages. Here, we had one scene that was 16 script pages long. Before I saw the movie screened with the subtitles, I didn't know what the guys playing my captors were saying in Somali. Paul Greengrass uses three cameras that he moves around. The only thing that really had to happen was that the sun always had to always be on the right side of the ship. We'd turn around every ten miles and loop back to make sure. A lot of filmmakers are really not interested in that truthful element at all. I disagree. When you can find the real life procedures, you can react to them. This is the only stuff I know as an actor. Lawyer, cab driver, alien from Mars: you've got to figure out what the procedures in their lives are, and then you react to that."
The scene of Hanks' Phillips being examined by Navy corpsmen, in a highly credible state of shock, is likely the finest acting he's ever done on screen. "While we were aboard the Navy ship," Hanks said, "we learned Phillips had been in the infirmary. We decided to have a look at it, and brought the cameras. The poor people in there didn't know they were going to be in a movie that day. If the scene had been on the schedule, it might not have ended up as free-form as it did."
Once, Hanks told a reporter he'd done 20 movies and that only five were any good. It's some 70 movies now. Does he think his acting has improved as he's aged? "I've learned how to manage the distractions. Being older is a help, you become less vain. We did The Green Mile (1999) and we had these prison uniforms. They're cool and fascistic. We're trying them on. Frank [Darabont, the director] is worried the hats look silly. I said, 'Frank, we need the hats. When they first bring in the prisoner, we've gotta say, "OK, you're on Death Row now. You're on the Green Mile. You know how you can tell that? Because we're wearing our hats." Then we'll take off the hats, and we'll become regular guys. But when I first saw myself, I realized I look goofy in a hat, and I have to accept that. I think in the old days, I would have said, 'I'm not wearing that fucking hat. It's stupid.' Now I don't care."
134 Min; PG-13