Movies
Review: Cinderella
Disney's live-action Cinderella is a gleaming and intelligent re-telling of a classic.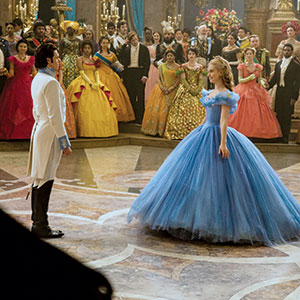 Kenneth Branagh's version of Cinderella has a magnificent palace in it, like a Beaux Arts Monte Carlo casino on the edge of an Alaskan fjord. Production designer Dante Ferretti and costumer Sandy Powell fill it up at great expense. This fantasyland is of the late 1800s, after the invention of aniline dyes; garish as they are cruel, the stepsisters wear all the newly created hues at once. The prince, who is known to his intimates as "Kit" (Richard Madden) holds court in a series of gorgeous Hussar uniforms with skin-tight riding trousers. As James Brown put it, what you see is what you get.
Lily James was cast not because she's the most beautiful girl in the world this week, but because she's an actress able to convey an honest heart. Ella's endurance changes the story, if a spot of magic helps—the temporary enchantment melts delightfully during a chase, with the horses growing vast mouse ears and the lizard footmen and the goose coachman metamorphizing in front of us. Cate Blanchett, wrapped in poison green gowns, has the job of putting this poor orphan in her place, making Ella sleep in a rickety attic as tall as the library in The Name of the Rose. Scripter Chris Weisz devises an intelligent patriotic reason why Ella would hide from her prince. But the sturdiness of the writing goes too far and over-explains—Blanchett doesn't need lines to explain why she's bad. She's Cate Blanchett. She can show us the hurt on the far side of her wrath, without any words.
Branagh makes the fantasy as effortlessly multi-culti as it is smart, though there's not much Shakespeare to it—if you don't count one of the awful sisters mangling a song from As You Like It. However, Derek Jacobi, as the dying king, stirs one's emotions. He seems to bring everything he learned as a Shakespearean about the weight of royalty to this role.
PG, 112 min.