Movies
Review: 'Clouds of Sils Maria'
'Clouds of Sils Maria' follows the struggles of an aging actress trying to reimagine the work that made her famous.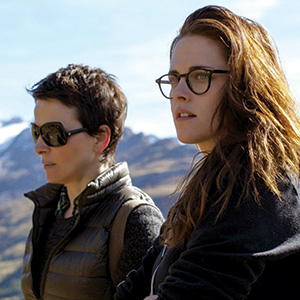 Dorothy Parker's comment that "the Alps are beautiful but they're dumb" comes to mind during scenes featuring mountainscapes in Clouds of Sils Maria. Certainly, this import deserves some of the attention given to Birdman, particularly in its examination of actors unable to express their gifts in that plethora of superhero—or vampire—material of which we all presumably can't get enough.
Director Oliver Assayas presents an interesting premise: in the remote Alps, a couple of hours from Zurich, a revered playwright dies, leaving behind a planned revival of his play "The Maloja Serpent." It concerns Helen, a mature female executive ruined by Sigrid, the young, heartless girl she mentored and love. Once, the internationally famous actress Maria Enders (Juliette Binoche) made her name playing Sigrid; now she is meant to play the other side of the stage, so to speak, as the elder woman.
Having her own personal crisis—a sticky divorce—Maria isn't ready to revisit the material. Her emotions muddy a once-harmonious relationship with her personal assistant, Valentine (Kristen Stewart). Apt name; this film is a valentine to the PA's craft. At first, Maria is very much a heroine to Valentine, but her nerves and moods widen the age gap between them, bringing out peevishness in Maria and impatience in Valentine.
The title of the play comes from a cloud formation that slithers in through a mountain pass from the Italian lakes on the south side of the Alps. This kind of insidiousness symbolizes the approach of age here. If that sounds like a bald metaphor, you can see the problem. Most of what goes on here is in the lines, as in a play, rather than between them, as in cinema.
Assayas honors Binoche's own magic, her beauty and elegance. Stewart shows what a fine and subtle actress was squandered in those dumbass glittery vampire movies; but then, bad movies can polish a good actor. One line unveils the essential thinness here, even before Assayas tries to stir us with Pachbell's bloody Canon. Researching the misdeeds of the notorious actress (Chloe Grace Moritz) who will play Sigrid this time around, Maria justifies her stalking: "This is not gossip, this is information." No, it's gossip, and this movie may not be much deeper than gossip—elegant gossip, but gossip.
R; 125 min.