Movies
Review: 'Crazy Rich Asians'
The movie certainly deserves praise, but not for its plot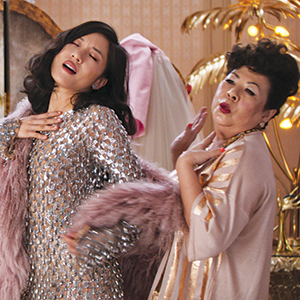 Any day you can disguise outright plutocrat-porn as social justice is a good day. Mountain View-raised director Jon M. Chu's box office hit Crazy Rich Asians is an all-Asian version of a romance done so many times that the audience could dub in the dialogue if the soundtrack malfunctioned.
Raised poor by a widowed mom, NYU economy professor Rachel (Constance Wu) has a boyfriend Nick (Henry Golding); Nick wants to take it up a notch by bringing Rachel to Singapore for the wedding of his school friend Colin. Nick neglects to mention that his family is filthy rich—and that his domineering mother Eleanor (Michelle Yeoh) will put this foreign girl through the wringer.
Plates of cupcakes and sculpted male torsos fight for the camera's attention. There'll be an uptick in plane tickets to Singapore with all of the travelogue footage here. Photographer Vanja Cernju makes the city look unmissable, from the cloudscapes to toothsome street food. Naturally, no references to the canings and capital punishment, or statutorily illegal homosexuality, even though there are two gay characters, modeled nicely on the David Wayne and Eve Arden types in '50s rom coms.
Crazy Rich Asians has its gay side, not a bad thing—Colin (Chris Pang) saying that he sort of wants to marry Nick raises one's eyebrow, particularly since Nick is interesting but not chemical in the kissing scenes with Rachel. Golding is very handsome, and I expect he's great at Shakespeare, but the precise English accent may inevitably lead to villain roles.
Yeoh's cold formality has feeling to it, and she's a credit to the old Hollywood movie models for her character; she acts more like Joan Crawford than Joan Crawford did. The characters get flatter the farther away they are from the center of the film, but two are standouts. The petite, raspy-voiced New York rapper Awkwafina runs away with this movie as Goh Peik, a school friend who provides Rachel with good advice and a borrowed dress. The affluent Goh family family provides the promised crazy part of this comedy, with Mar-a-Lago-worthy gilded tackiness, Elvis coiffures and Versace worn at breakfast. (Happily, the great Ken Jeong plays the father.)
Another asset: the purple-clad and effete Ollie (Nico Santos of Superstore), who is a poor relation—"the rainbow sheep of the family." He's allowed around the wealthy Youngs because of his shrewd taste. Ollie's guarded judgement of a dress as "it's...not...that...bad" sort of sums this movie up.
Crazy Rich Asians
PG-13, 120 Mins.
Valleywide