Movies
Review: 'Dark Places'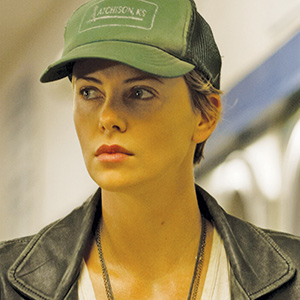 Chip on her shoulder, ratty baseball cap clamped on her head, so that her eyes are in shadow: in Dark Places Charlize Theron deglazes herself of glam as she hasn't since she played serial killer Aileen Wuornos in 2003's Monster.
Theron is Libby Day, a Midwestern survivor of an assault on her family that occurred years before. She lives a parasitic life on the last waning sympathy checks. The "as told to" book she wrote about the ordeal has been lining thrift stores for several decades. At this point, she is hired as the monthly speaker by a group of weird enthusiasts calling themselves "The Kill Club." They're led by a nice young man named Lyle (Theron reunites here with Nicholas Hoult of Fury Road). The state is about to shred the records of the Day massacre after 30 years. It's time to reopen the conviction is running out. Libby doesn't believe it, but the gang of true crime fans believes that the brother Libby sent up the river through her childhood testimony is perhaps not the real culprit.
It's based on Gillian Flynn's novel, and as in Flynn's Gone Girl, there is the problem of an untrustworthy, flashback-ridden format: it's a plot that requires some juggling, some voice-over, and some last-minute reveals to hide the fact that the story doesn't make a lick of sense. Flynn excels at taking a poisonous look at the parts of the country most people rhapsodize about—but by mashing up In Cold Blood with the West Memphis Satanic panic, there's too much plot for the cast to chew.
It's not the cast's fault, except for Sean Bridgers, who is dreadful as Libby's no-good dad. Denise Williamson, in a small but key role, should develop her presence in horror films. Chloe Grace Moretz is a succulent, manipulative teenage temptress. Christina Hendricks, practically unrecognizable from her Mad Men days, tries her best in the flashbacks as Libby's single mom struggling with a mountain of debt. Paul Greengrass vet Barry Ackroyd's glum, naturalistic photography doesn't heighten the drama the way the images did in Gone Girl—we're not seeing something that measures up to Flynn's vision of a nation rotting from the middle outward.
R; 113 Mins.