Movies
'David Bowie Is'
'David Bowie Is' explores the musician and showman's many incarnations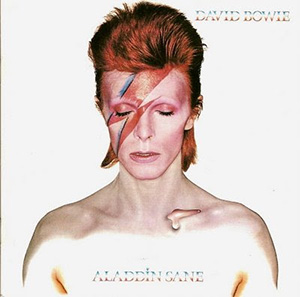 If David Bowie had died yesterday, my response would be something like the one Frederick Exley proposed in A Fan's Notes for what he'd say about football great Frank Gifford: "I owe more tears to this dead man than you shall see me pay" Bowie is still around, thank God, so you can watch the one-night-only film David Bowie Is with a little amusement for the extremity of the personality cult.
It's a tour through the very popular Victoria and Albert Museum exhibit, which is doing the world tour. The show opens at the Museum of Contemporary Art in Chicago this week. Next year, Melbourne patrons can view one special artifact during the golden anniversary of its creation. That's a framed letter from the British musician's manager Ralph Horton dated September 17, 1965: "I have now changed his name to David Bowie."
Fifty years of different identities, stances, changes of modes and sexuality; a "closet heterosexual," Bowie outraged our easily outraged nation by claiming he was gay. In David Bowie Is viewers can gawk at some pieces of magic, such as the ballpoint on notebook paper lyrics to "Oh! You Pretty Things." Naturally, it's one thing to be in the presence of a piece of Holy Writ and another to see it on screen. The tour is interspersed with a series of Ted Talk-sized lectures on the importance of Bowie. Some are particularly valuable and heartfelt, such as writer Hanif Kureishi's comments during the walk-through: a personal reminiscence of the boredom and scarcity of South London. In the 1950s, a growing boy as bright as David Jones—Bowie's birth name—would have been expected to become a civil servant. Photographer Terry O'Neill recalls the Diamond Dogs photo sessions. Jeremy Deller considers Bowie as a graphic artist; also speaking are Bowie's costume designer Kansai Yamamoto, Jarvis Cocker and film historian Sir Christopher Frayling.
The interviewees are enthusiasts, from the curators on down to the visitors; the stage suits—discarded skins as Bowie the chameleon changed his act and his image—are worn by mannequins disguised with Bowie life masks. "This contains Bowie's DNA," one commentator enthuses. Is it time to clone him, then? The salons in the exhibits carry present-tense headings: "David Bowie is escaping into SohoDavid Bowie is blowing our mindsDavid Bowie is crossing the border." ("The Englishman has escaped!" as the Nazi lieutenant always screams in the movies.)
The force of Bowie was inhibited in the USA by the Powers That Were. Many can remember where they were when they first saw Bowie on television, late at night when the kids were safely tucked away; the SNL performance of "The Man Who Sold the World" with the opera-trained Klaus Nomi singing back-up vocals. One of the big revelations of this documentary is the TV footage: the English saw the spangled androgyne on prime time. How did Bowie get away with it all? On a gallery way, the famous images carry new shock—the boy-faced dog in Diamond Dogs, or the painted Captain Marvel thunderbolt on the face of Aladdin Sane.
Bowie had middling guitar skills—he doesn't seem to be able to play much better than his idol Elvis did, evidenced by footage of his performance of "The Jean Genie" on an unplugged '50s hollow-body. This is less important than Bowie's command of theater, of repurposing anthem rock and aiming it straight at misfits and rejects: "You're not alone! Give me your hands!"
But if you love that, you have to tolerate the porcelain crying-clown element among these various Bowie personas. He dressed as Pierrot, and he was even a mime once, as we see in a 1969 excerpt from his film Love You Till Tuesday. There's a lot of Bowie's peacockery here, and it doesn't soothe the internal grumpus who takes Thoreau's motto seriously: "Beware of all enterprises requiring new clothes." Of all these Bowie-Barbies, among these Dr. Who-like transformations, Berlin Bowie seems most admirably austere—Bowie at a height of artistic risk. The three albums Bowie wrote in Germany still sound like the future, decades later. He collaborated on three albums (Low, Heroes and The Lodger) using the fortune-cookie oracles of Brian Eno's Oblique Strategies cards, with the ever-nervous Iggy Pop was his collaborator. (Bowie did some Egon Schiele-oid portraits of Iggy, on display here—they're pretty bad). If the museum was on fire, I'd run out with the primitive attache-case-sized synthesizer on which he composed these songs—state of the art in its day.
And, among the stuff that makes one gape: Mick Rock's video of "Life on Mars" in '73. Naturally it's my favorite song ever about the movies, because it's a critic's song: "She could spit in the eyes of fools/who insist that she focus on/sailors fighting on the dance floor" There could have been something in this exhibit about the "The Thin White Duke" coming in with the tide that brought Thatcher and Reagan, and how the banal hit "Let's Dance" sounds like a gesture of surrender to MTV. When describing the Ziggy Stardust persona, Bowie tried to sum the character up: "He was against the system." But there was a heartbroken film made titled Velvet Goldmine made about Bowie ditching the flounces and coming on lean and mean for the 1980s.
Bowie, who made outright tribute songs to Dylan and Warhol, wore his influences on his velvet sleeve. This show traces these influences, and also marvels at what Bowie did that was new and still-relevant. It never goes against the grain of the 67-year-old artist. No fan should miss it. No fan should fail to realize it's a fan-fest.
Shows for one night only, Tuesday, Sep 23, at Camera 3, San Jose. DavidBowieisfilm