Movies
Review: 'Digging for Fire'
In 'Digging for Fire,' director Joe Swanberg mashes up multiple genres with mixed results.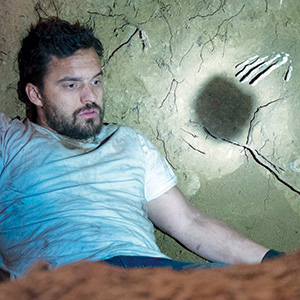 Joe Swanberg's Digging for Fire has its appeal. It stars a well-chosen group of actors, and is directed in a loose style that reveals more of their humanity than you'd see in more tightly woven films. Sam Elliott, capable of mustachioed, rugged cowboy charm or smooth-shaven villainy, gives five fine minutes as a grandad sighing about his age, for example. It has a handsome setting in the Los Angeles hills—where a couple, Lee (Rosemary DeWitt) and Tim (Jake Johnson) are doing some housesitting for someone wealthy they know in the Industry. Their adorable three-year-old says "poopie" at the dinner table, even though he knows it's naughty. While horsing around on the eucalyptus-studded slope of this estate, Tim finds a human rib bone and a rusty pistol. He calls the LAPD, and they're uninterested in these ancient relics.
The couple split so Tim can have some quality time with their tax forms. Instead, he calls his buddies up for a night of beer drinking. They bring over "tarts"—Max, played by Brie Larsen and Alicia (Anna Kendrick)—for a little partying. Larsen returns the next day to get the purse she left behind, and stays to dig for further evidence, with some drinks and a little dancing afterward. Lee is alone for the weekend, after her girlfriend (Melanie Lynskey) cancels on their plans. Alicia turns up again (surprise, what a small circle of people we know, if only we knew) to nurse an injured young man (Orlando Bloom) who crosses Lee's path.
I could not dig Digging for Fire. Swanberg ambles through in styles that he doesn't have the energy to fill, from neo-Cassavetes to crypto-Rohmer. It might make a splash with people who feel that Eyes Wide Shut was underrated, telling shocking truths about couples, and the terrible allure of adultery most foul. The buried bones metaphor is no more convincing than if Swanberg had cut to a sleeping dog that everyone had decided to let lie. Some texture remains in the details of L.A. life, from soul-searching conversations with the Uber driver you'll never see again, to the vast importance of yoga (and yoga is important—Los Angeles idlers would feel very unhappily idle without it).
R; 85 Mins.