Movies
Review: 'Dolores'
Documentary chronicles the incredible life of the UFW's co-founder, Dolores Huerta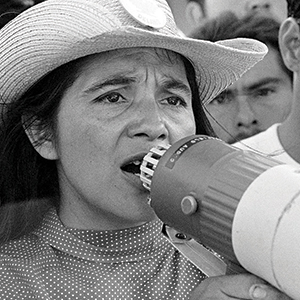 Peter Bratt's documentary Dolores will make an audience feel braver about the current political situation—it'll put some steel in their spines. Bratt gives deserved attention to Dolores Huerta, the co-founder of the United Farm Worker's union. She fought side by side with the more famous Caesar Chavez (and fought against him sometimes, too).
It's an amazing story. A two-time divorcee from Stockton with 11 children battled the machismo of the UFW, as well as the growers who ran their fiefdoms with a squalor equaled only in the American South. The historical footage shows it all: filthy shacks, harvesters dipping water out of a barrel still stenciled with a pesticide label, and farmworkers in fields so freshly sprayed with poison that some San Joaquin Valley farm towns became host for birth defects and cancer clusters.
Huerta was a shrewd, handsome woman and a commanding speaker. She brought in followers, many of them female: hard to resist the appeal of an activist job that offers $5 a week and all you can eat. San Jose's Luis Valdez, on camera here, joined the workers to create some street theater. The UFW's fight culminated in a long march to Sacramento, under the banner of the Virgin of Guadalupe. As the organization's fame spread, 1968 Democratic presidential frontrunner Robert F. Kennedy arrives in Kern County with a UFW badge on his lapel, to talk tough to the local sheriff who'd been making Minority Report-style arrests of the protestors he thought were likely to commit a crime.
Huerta was at the Ambassador Hotel on RFK's last night alive. Interviewee Gloria Steinem sums up the tragedy: "You're used to the experience of the death of the past. It's a different thing to experience the death of the future." What was to come were political reactionaries on parade. Then-Gov. Ronald Reagan called the UFW's grape boycott "illegal and immoral"—brilliant thoughts from a former union president. And we see Richard Nixon gobbling up some grapes for the cameras. The U.S. government bought the boycotted grapes and shipped them to the troops in Vietnam, doing its part to interfere in a strike.
Given the size of the giants she was fighting, it's surprising Huerta could keep her focus. The expansion of the farmworkers protest into the larger 1960s movement helped get the message across, as grape and lettuce boycotts led to picket lines around major supermarkets. The way the story is usually told, the movement splits up into factions and peters out. In this version, the women's struggle actually helped the cause out, getting Huerta access to influential friends. The UFW piggybacked on environmental protests to ask serious questions about the DDT that agribusiness was using.
As for her many children, Huerta farmed them to friends and relations as she travelled. The toll on these sons and daughters was extreme, as we learn from them. Gossip about Huerta's personal life was used against her. When Chavez died, and was laid out in a plain pine box with rope handles, it seemed that Huerta would have been a natural to head the union she co-founded. It didn't work out that way.
Huerta became an all purpose social justice warrior, seen wherever the action was: marching for abortion rights, or on the picket line at Standing Rock. In 1988, when she was at an AIDS protest, an SFPD riot cop's baton broke three of her ribs and ruptured her spleen; at age 58 she was hospitalized and left bedridden for months.
Bratt illuminates this injury with a montage of the past events we've seen—"her life flashing before her eyes" seems to be what we're supposed to think. It's a dubious idea, because Huerta remains mysterious—we hear about her love of music and dance, but there's no key to her bravery, her unwillingness to succumb to rage or grief.
The secret must be hers—a commitment you only see in one in a million people. At press time, the 87-year-old Huerta is slated for a visit to the Camera 3 on Sept. 18, on behalf of the South Bay Jewish Voice for Peace, and the non-profit foundation that bears her name.
Dolores
Unrated, 97 Mins.
Camera 3