Movies
Review: 'Doris'
Sally Fields shines in this new comedy about love and aging.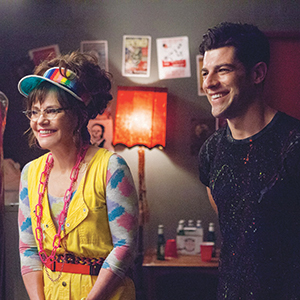 Mortality shades director Michael Showalter's comedy Hello, My Name is Doris. The slight but endearing plot has an armature—a significant mention of The Glass Menagerie sets the stage. Like poor Laura, Doris (Sally Fields) has been walled-up tending her aged mother, and is gradually turning a trash-picker and a cat-pamperer. Her brother is even named Tom (Stephen Root), as per the Tennessee Williams' play.
Doris still works a 9-5, rocking her batty personal style at a chic clothing manufacturer in Manhattan; she's bedecked with bows and found objects, and a double pair of glasses. Doris has these excellent vintage mother of pearl-encrusted cat's spectacles that she can't give up, even if she can't read with them on. Still, her eyesight is good enough to see the new marketing boy, John (New Girl's blandly cute Max Greenfield). She falls for him hard and fast, even though he's about 40 years her junior.
Speaking of eyes, they're the last thing to go on an actress, and Field's are sharp, dark and expressive. I'd like to speculate that Fields was the subject of Amy Schumer's "Last F'able Day" sketch because Schumer had seen Fields in person and witnessed her charm. It's a strange experience to see an actress evolve from a 1960s beach bunny to an elder stateswoman, but there's a lot that time hasn't worn away. Fields plays her comedy in a hushed ladylike voice, and she's lithe enough to fit into spandex when she descends into Brooklyn.
"These people have welcomed me into their world," Doris says, and the excursion of course is bittersweet. The film doesn't fire on all cylinders, despite agile support by Natasha Lyonne and Tyne Daily: we're not allowed to take the crush all that seriously. Still, Fields—in nearly every scene—savors the material and runs with it. Likability has never been her problem, and you see through the age to a strange, merry spirit that never seems too manic pixiesh to bear. The film isn't as mordant as Harold and Maude; it's more like the odd romances of the '80s, like Sugarbaby and I Hear the Mermaids Singing.
Hello, My Name is Doris
R; 95 Mins.
CinéArts, Palo Alto & San Jose
Camera 7, Campbell