Movies
'Exodus: Gods and Kings'
Christian Bale plays Moses, leading the Jews out of Egypt in 'Exodus: Gods and Kings.'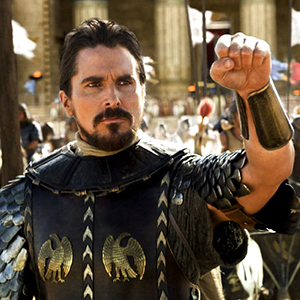 It's a biblical epic done the George Bernard Shaw way—throw the agnostics a bone, and suggest that religious zealots are a threat to an orderly functioning society. Exodus: Gods and Kings is rich, gilded, crisply digitalized pagan spectacle in sharp 3D. Haters are blind to the humor, which was far thinner in Cecil B. De Mille's Egypt. Here: a sculptor fretting at the model for Ramses's proposed statue ("It is...tall.."). Note the sportscasterly way the old Pharaoh (John Turturro!) asks Christian Bale's Moses for a description of a battle that didn't go as planned: "What happened out there?" A soothsayer (Ewen Bremner) has a plausible explanation of the plagues, in a scene deliberately built to make us recall the witch-expert in Monty Python and the Holy Grail. Someone should have asked: "Who are you, so wise in the ways of science?"
No bulrushes—"it's not even that good a story," Moses says, when he learns it. Director Ridley Scott commences in mid-wartime planning against the Hittites, showing us the complex fraternal relation between Moses and his heir-apparent foster brother Ramses. Their argument lasts through exile and guerrilla warfare, up until the great waves at the Red Sea. Joel Edgerton's Ramses comes out as a ruler in full, a victim of both history and an unthinkable and frightening entity. "I Am" as he calls himself, is portrayed as a cross little boy called Malak—perhaps a swipe from the "Balok" episode of Star Trek? Tough for evangelicals, the suggestion that this Jehovah emerges as a vision that comes from Moses' having been knocked on the head.
Bale handles the role of Moses with satisfying, commanding style. Edgerton is an Australian actor who has already been in a lot of films, a minority of which were good. That's the only reason the actor recalls Richard Burton; the resemblance increases after Pharaoh gets scars from Jehovah's boil attack. His resolve seems brave in the face of the horror-plagues, up to the last and most vicious one. You'd think the girl-children got killed instead; this is one of the most female-free movies of a year that gave actresses so very little. It's often not a sane movie, but the wit and opinion in it make something like Noah look as precooked as Veggie Tales.
150 Min. PG-13