Movies
'Far from the Madding Crowd'
Thomas Vinterberg's adaptation of 'Far from the Madding Crowd' does the book justice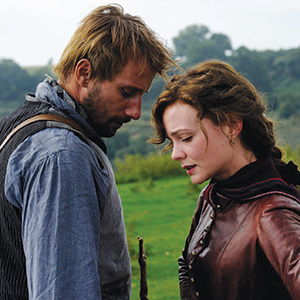 By the lights of most of the work of Victorian-era English novelist, Thomas Hardy, the much-filmed Far from the Madding Crowd is practically a frothy rom-com. One can ignore the dead baby, the shot dog and an apparent suicide as mere elements adding tone to the story of a propertied, principled lady. Director Thomas Vinterberg, the Dane who started out his career as a part of the Dogme 95 movement, keeps the tension alive as Miss Bathsheba Everdene (Carey Mulligan) makes up her mind.
If this Madding isn't on the level of Cary Fukunaga's terrific Jane Eyre, it has vigor. Scripter David Nicholls, who adapted Tess of the D'Ubervilles for television, takes a fresh and diverting approach to the material. This version of Madding has a lot in common with Barbara Stanwyck westerns. We have a lady farmer, who is a good enough horsewoman that she can ride laying down. Hardy's "Wessex" is as wild as advertised, with cliffs and surf and sudden storms. The solemn hired hand, Mr. Gabriel Oak (Matthias Schoenaerts of The Drop) keeps as watchful an eye on his trouble-prone female boss as he does on his sheep.
Oak is at first Bathsheba's neighbor, who blurts out a marriage proposal as he brings her a lamb as a gift. He's ruined in one night because of an undisciplined sheepdog. Bathsheba's next suitor is William Boldwood, an older farmer of strong moral force but not much personal interest. He's played by Michael Sheen, maybe not the right actor for the job. He's obviously solemn and decent, but it's unclear what kind of man Bathsheba thought she could tease out of him, using an anonymous Valentine's Day card.
Bathsheba's last and bluntest suitor is a red-coated soldier. He appeals to the animal side she didn't know she had. Sergeant Troy (Tom Sturridge) is first affianced to the village girl Fanny (Juno Temple). A single word can turn out to have tremendous power in Hardy's work. Temple's Fanny is completely destroyed by one misheard word. After Fanny uses the word "sweetheart" to describe her un-stalwart soldier, repetitions of the word become weighted and fragrant when used by other characters. And because a doomed girl used "sweetheart" first, the word has an edge of doom to it, as in a folk song. Troy himself almost destroys Bathsheba.
Sturridge is convincingly impudent, and the sword-practice scene in the forest with Bathsheba matches the novel's Freudian eroticism with more modern explicitness. I've never seen the '67 film version with the young Terrence Stamp as Troy; he was then the most beautifully untrustworthy man in England and I wonder if he was able to conceal his character's rottenness longer than Sturridge does here. Sturridge's Sergeant Troy is perhaps too visibly weak. Because the time in this film is short, the cad in the man rushes out.
Mulligan is an admirable Everdene, a heroine with much backbone—it's obvious why her name was stolen for the Hunger Games. Vinterberg tilts the film in her favor. He includes Bathsheba's sigh of comic exhaustion after she fires a man in full view of her staff, done to prove them "even if I'm a woman, I can tell the difference between bad goings on and good." Stanwyck wouldn't have made any noise of complaint after such a confrontation. Similarly, Vinterberg films Bathsheba from the back, instead of the front in a scene, where she scolds the sergeant; it's as if by not showing us the anger in her face, he's protecting his actress from seeming too mean.
Maybe there's merit to the old critique about Hardy adaptations for film—that they're always too long and yet never long enough. Right before Bathsheba finally chooses the right man, Vinterberg cuts to the exasperated groan emitted by her dog, who has presumably had just about enough of his mistresses' dawdling.
We sympathize, maybe, but Mulligan and this Madding are sharp enough that we don't feel like yelling out what the British film audience used to shout at the movie screen, as they kept an eye on the clock for the 10pm closing time: "Say 'yes' before the pubs shut!"
PG-13; 119 Min.